Blog: CCTV - the next big thing?
This week the news has been full of vendors making a grab for more share of the burgeoning IP video security market. But how easy is it for a traditional network or security reseller to make money from the transition to IP CCTV?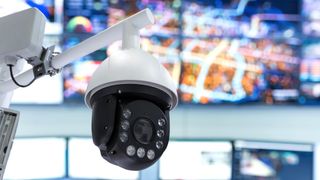 (Image credit: Shutterstock)
In a week when both Canon, D-Link and EverFocus UK all expanded distribution agreements to better target the burgeoning IP-based video security market, a timely report from analyst firm Frost and Sullivan highlights the scale of the opportunity.
According to the market watchers survey, 12 percent of end users said they are planning to install an IP/network video solution within the next 12 months, with growth expected to be faster among SMEs.
With the UK allegedly one of the world's hotspots for CCTV technology, the growth is more a case of people upgrading from older analogue systems to more flexible IP based cameras then completely new installs.
Although CCTV has undergone a switch from old analogue to IP, the IT channel is still pretty divided between the "old fashioned" installers and those that have made the transition. There is also a new breed of IT firm that sees the 30 percent margin deals and thinks of CCTV as an easy and lucrative new market.
Of course, with firms like Cisco and D-Link offering familiar brands in a market dominated by non IT-centric names, it is easy to see CCTV as new revenue stream. However, it may not be so simple in reality. The industry has a lot of well-established players and crucially, CCTV is not necessary in the hands of the IT department. Facilities managers still control the decision making process and they are not the most IT-savvy.
Also, CCTV is not a technology deployed in isolation. Door entry, alarm systems and building management suites are increasingly integrated so just offering CCTV is often not enough to sway the deal. The headline growth numbers are impressive but it's getting into to video surveillance takes more than just an understanding of IP.
What do you think?
Stay up to date with the latest Channel industry news and analysis with our twice-weekly newsletter
Christine has been a tech journalist for over 20 years, 10 of which she spent exclusively covering the IT Channel. From 2006-2009 she worked as the editor of Channel Business, before moving on to ChannelPro where she was editor and, latterly, senior editor.
Since 2016, she has been a freelance writer, editor, and copywriter and continues to cover the channel in addition to broader IT themes. Additionally, she provides media training explaining what the channel is and why it's important to businesses.