Juniper Networks: Growth dependent on partners
Juniper announces new deal reg, financing and investment in partners' professional services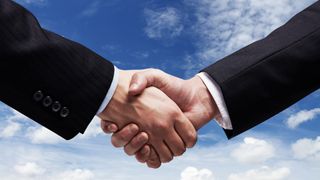 Juniper Networks (NYSE:JNPR) has announced a number of new initiatives to help partners close deals.
The additions to its channel programme – unveiled at Juniper's annual Global Partner Conference (GPC) in Las Vegas last week – were announced as part of the vendor's current campaign of being "deliberately dependent" on partners to win business.
Worldwide channel chief David Helfer took to the stage to first announce single opportunity registration, a new scheme where Juniper commits to just one partner in a deal. It was introduced, says the exec, because, "partner A works on an opportunity – they're doing the design and the architecture – then partners B and C come along and all of a sudden it's a fire fight."
Helfer says Juniper is now eliminating the gapping between the initial partner and latecomers: "There are no additional discounts above and beyond the standard programme discount that we would ever give to any other partner," he explains. "We're investing in the partner that brings the deal. It's not our deal; it's an opportunity they brought to us."
"We win or lose with that partner," he adds.
The exec also unveiled a new web-based customer finance scheme which will see Juniper finance an entire deal – regardless of whether it includes a competitor's kit: "A lot of financing programmes are very self serving," explains Helfer. But, he says "if the opportunity is as low as $20,000 up to multi-million dollar deals, Juniper will fund the entire deal, as long as Juniper is 20 percent of that opportunity will find the whole thing.
"A lot of people in the industry finance their individual component. We want to empower out partners to help deploy the entire offering and services. At the end of the day it's helping the customer with the OPEX discussion and that's a different way of thinking about it."
Helfer also said Juniper would be increasing investment in Juniper Partner Advantage Services in 2014: "We want to help build our partners' professional services. "We are concentrating on building the content and capabilities of our partners on pro services. This isn't about Juniper's professional services... [We will be] marketing our partners' professional service capabilities to customers and our own sales team as well."
Elsewhere, Juniper GM for the campus and datacentre business unit, Jonathan Davidson, highlighted the opportunity for partners around Microsoft Lync. Davidson told partners that 85 percent of all Lync deployments require a network upgrade. For every $1 spent on licences, it says $3 is spent on network upgrades creating a $3bn network opportunity, not including services.
The announcements received a generally good response from Juniper partners in attendance. "It's interesting to see that they have moved into a very channel-centric model, and we've definitely seen that where they've dedicated significant resource to us in the UK and it works," comments Simon Fieldhouse, CCO at UK partner hardware.com.
"It's a relatively young channel model so maybe it benefits from some of the mistakes being made in some of the more legacy models," he adds.
Year of transition
Partners, press and analysts attending the GPC noted its content was leaned more towards sales and professional services than in previous years, where the vendor has focused on its products and technology.
"Traditionally we'd have gone into meetings and seen a very detailed synopsis of products or their roadmaps for the year. Clearly it's a big year of transition so it was understandable their focus was on how they're going to support that transition moving forward," comments Fieldhouse.
"It was more around industry transformation, partner transformation and client focus," agrees Chris Barnard, associate VP European telecoms & networking at IDC. "It's clear that Juniper is very focused on not only finding new partners, but also taking the fight to some of it's traditional competitors for the hearts and minds of partners."
This year was also the first time that Juniper hosted its own sales team and channel partners in the same room.
Explained Juniper's executive VP of worldwide sales, Vince Molinaro: "We are one team…we need to be engaged in a singular purpose and committed to each others' success…It's part of our DNA. I want to continue to instil that into our sales culture."
Overall 2014 promises to be a year of change for Juniper, not least because of the arrival of new CEO Shaygan Kheradpir, who joined the company this month from Juniper customer Barclays.
Taking to the stage for his debut keynote, Kheradpir said there must be a "laser focus on customers through a strong field organisation…innovation [and] deliberate dependence on partners; all together as one Juniper team with disciplined business fundamentals and helping each other though the journey."
Kheradpir's background is "a big advantage for us," added Molinaro. "He can connect with customers because he was one himself. He understands the challenges and how to put Juniper's portfolio to work in powerful ways."
Read our UK exclusive interview with Juniper CEO Shaygan Kheradpir
Stay up to date with the latest Channel industry news and analysis with our twice-weekly newsletter
Stay up to date with the latest Channel industry news and analysis with our twice-weekly newsletter
Thank you for signing up to Channel Pro. You will receive a verification email shortly.
There was a problem. Please refresh the page and try again.