Flexible working and the SMB
Flexible working is gaining momentum with SMBs, according to survey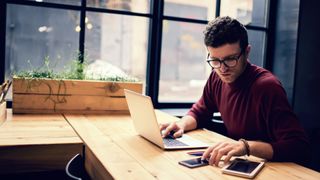 (Image credit: Shutterstock)
When it comes to flexible working, many fear that 'out of sight' means 'out of control'.
These same fears have seen a resistance to allow personal devices to be used in the workplace.
However, as the latest YouGov survey commissioned by Citrix shows, this situation is changing. Almost two thirds (64 percent) of today's SMEs are achieving measurable productivity gains as a result of adopting personal devices in the office, with almost a quarter (24 percent) seeing a 20 percent-plus improvement.
This compares to only 46 percent seeing tangible gains in a similar survey two years ago. Equally striking is that the number of SMEs who saw no measurable improvement had halved, which, over the same period, fell from 27 to just 14 percent.
Flexible workstyles
Looking back at national events over the last few years, there have been several key drivers that have contributed towards more flexible working strategies.
Tighter regulation in supporting a more parent-friendly workplace is having an impact, as are environmental pressures to reduce the corporate carbon footprint. Other external factors such as the 2011 volcanic ash cloud which grounded flights across the UK have played their part in increasing awareness of the need to put in place initiatives to maintain efficiencies and minimise disruption.
In 2012, UK government departments took the lead in seeking to minimise transport disruption and loss of productivity during the London Olympics by encouraging staff to work from home, both in the run up to and during the event.
However, as the Citrix survey highlights, business owners and executives are seeing most pressure coming from within the organisation, with employees across all departments recognising the benefits that flexible working can deliver. Combined with the growing availability and adoption of advanced cloud-based meeting and collaboration tools, these technologies are now enabling a secure and reliable 'work anywhere, with anyone' environment, overcoming previous barriers to wide-scale adoption of remote working practices.
Win-win for businesses and employees
For firms that have been reluctant to introduce flexible working, concern over potential loss of productivity has been a big issue. Others are worried that staff cannot stay in touch with the business and function just as effectively, which has acted as another barrier to adopting a 'work from anywhere' policy.
Similarly, concerns over staff being distracted by using their own phones for personal purposes during working hours also acted as a deterrent to greater flexibility.
However, organisations that have overcome these trust and technology issues are now seeing the tangible benefits of operating a more flexible workforce with half (50 percent) achieving measurable productivity gains of up to 30 percent and a further 14 percent achieving even more.
Security is also a hurdle to be overcome in adopting more flexible working practices, with the greatest concerns expressed around allowing remote access to the corporate networks and downloading applications and documents.
In many cases, this is more connected with reluctance to change existing practices, rather than the lack of affordable technology. The latest HD video-conferencing, remote meeting and web application-sharing tools emulate almost all aspects of physical face-to-face engagements, enabling staff to be equally effective in working with customers and colleagues, irrespective of location – and with the highest levels of security.
Increasingly, the growing requirement to collaborate internally and with third-party clients, suppliers and contingent workers is also proving central to the creation of an effective, agile and flexible working environment, with clear and tangible benefits to the organisation, its employees and customers.
Andrew Millard is senior director marketing, EMEA, SaaS division at Citrix
Stay up to date with the latest Channel industry news and analysis with our twice-weekly newsletter
Stay up to date with the latest Channel industry news and analysis with our twice-weekly newsletter
Thank you for signing up to Channel Pro. You will receive a verification email shortly.
There was a problem. Please refresh the page and try again.