Market consolidation – like Virgin Media O2 – is proving costly for the customer
There's only one winner when it comes to the consolidation of the broadband and mobile market, and it certainly isn't the consumer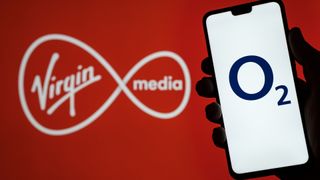 (Image credit: Shutterstock)
It's contract renewal time for my broadband/mobile phone deal and I'm in full Alan Sugar mode. "Oh, you want to put my prices up by almost 60%, do you? Have a word with yourself and I'll be over here when you've stopped taking those psychedelics."
I embark on the always tortuous journey through Virgin Media's phone system to reach the retention department. Some 48 minutes on hold and a few unhelpful support assistants later, I'm finally put through to someone who does have the authority to stop you walking off the reservation by throwing discounts at you.
"Alright," says the manager with a hefty sigh, as if I've just threatened to slit the throat of his favourite gerbil if I don't get the price I'm after. "I can get you the same broadband deal and 5GB more mobile data per month for £40 per month," which is only a fiver more than I'm paying already. I spit in my hand, ready to do the deal.
"There's just one thing I need to make clear," he adds. "You can't get this deal with Virgin Mobile. You'll need to sign up for a new contract with O2."
See, I made a mistake in the second paragraph of this column. Because in the time it's taken my contract to expire, the company has gone from Virgin Media to Virgin Media O2. And now it seems Virgin Media is none too keen on selling bundles with its own mobile arm, Virgin Mobile, because that company has a long-term network deal with Vodafone. Instead, it's trying to shove customers towards O2.
For me as a customer, however, that would mean two separate contracts, two separate accounts and two separate payments for the privilege of Virgin putting my prices up! Worse, O2 reception is pitiful at my house, as the chap on the phone confirms from the coverage maps, so I'd be getting terrible service. Can I not just stick with Virgin Mobile, even if it's going to cost another fiver? That would be a "no".
Don't you just love the convenience of this new, consolidated communications market, where you can get all your services from the one provider for one simple monthly sum? As if; you'll get what suits them, and if you don't like it, you can slink off to BT/EE or Sky or one of the other all-in-one conglomerates, where there was once a competitive landscape of hundreds of different providers.
Still, the networking companies continue to insist there's too much competition. Three's CEO, Robert Finnegan, recently called for "fewer players" in the UK mobile market, amid rumours of a proposed merger with Vodafone. Not that long ago, the UK had five mobile networks all scrapping it out for customers; Three want that number reduced to, well, three.
RELATED RESOURCE
Mastering retention
Turning user behaviour insights into retention strategies
While it might very well benefit the shareholders if there were less competition – not least because there'd be no bidding wars for spectrum in the future – it definitely wouldn't benefit consumers. Less choice almost always equals higher prices, because there are fewer places to run when someone wants to put your prices up by 60%. Just look at how the mobile networks all followed suit when one of them decided to reintroduce roaming charges.
It's not like our old friends at Ofcom or the Competition and Markets Authority (CMA) are likely to stand in the way of further mergers either. Having rubber-stamped BT/EE and Virgin Media O2, it hasn't really got a leg to stand on if Three and Vodafone do decide to consummate their relationship.
In the end, I settled my Virgin Media O2 dust-up with something of a score draw. I kept the broadband line – it serves my home office, while Zen Internet does the house, providing a degree of redundancy – for £34 per month and cancelled the phone. That's now handled by a £7-a-month SIM-only deal from Lebara, a virtual network that piggybacks on Vodafone at far cheaper rates than the mothership. The economics of that, I'll never understand.
So, a 17% increase instead of the near 60% I was facing in the first place. That's still not exactly a win for me; a hefty price rise that means I'm doing my bit for stagflation. But I suspect when it comes to my next renewal in 18 months' time, there will be even less competition to keep those hefty price rises at bay.
Stay up to date with the latest Channel industry news and analysis with our twice-weekly newsletter
Barry Collins is an experienced IT journalist who specialises in Windows, Mac, broadband and more. He's a former editor of PC Pro magazine, and has contributed to many national newspapers, magazines and websites in a career that has spanned over 20 years.
Today, he's a contributor to Forbes.com, a columnist for PC Pro and ComputerActive, and is the co-editor of BigTechQuestion.com, a site dedicated to helping solve people's tech problems. You may have seen Barry as a tech pundit on television and radio, including BBC Newsnight, the Chris Evans Show and ITN News at Ten.
You can follow Barry on Twitter at @BazzaCollins, or email him at barry@mediabc.co.uk
Stay up to date with the latest Channel industry news and analysis with our twice-weekly newsletter
Thank you for signing up to Channel Pro. You will receive a verification email shortly.
There was a problem. Please refresh the page and try again.