A Channel Guide to enterprise-Class Solid State Disk (SSD) technology
Many column inches have been written about solid state disk (SSD) technology but, asks Marcus Schneider, director, SNIA Europe and European Liaison to the SNIA Solid State Storage Initiative, do you know how to make money out of it?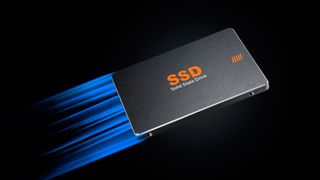 (Image credit: Shutterstock)
Although flash-based storage devices are quite common now in laptops, it is not so in the datacentre, even though many vendors have now released SSD technology for their RAID systems. The potential is significant because enterprise-class solid state storage can bring substantial, tangible benefits if deployed in the right way for the right purpose, and therefore resellers and distributors should get in there before their competitors do.
Compared to hard disk drives, although pricier Solid State Disks have a smaller footprint, consume less energy per Gigabyte and require very little cooling; the lack of moving parts also eliminates the issues associated with rotational vibrations. And of course they are much faster. So how can the channel turn this technology into profits?
Firstly, you can apply your knowledge of hard disk drives sales to SSDs without the need to spend time learning a new approach. Disk technology evolves so rapidly that every three years or so IT managers tend to replace their disks, and this is a very easy way into the account. The replacement of many HDDs with a few solid state disks will quickly allow the customer to benefit from additional speed, capacity, and energy efficiency, especially those relying on any real-time data processing and database applications, requiring high IOPS.
Today Solid State Disks are mainly deployed to increase performance – that's the number one driver, although their green credentials are also a strong draw. However you should never try to replace all the storage in a datacentre with SSDs because this simply would not work; solid state storage and hard disk drives are complementary, not mutually exclusive and often a combination of both is the most cost-effective solution, one that also offers the best performance for the different types of data and applications present in a company.
So while it is safe to say that, at least in short term, SSDs will not replace traditional hard disk drives because their price/capacity ratio is still higher, they are certainly becoming an important storage tier alongside traditional disk and tape. In addition, they are already an effective alternative to hard disks in applications with high IOPS requirements such as data bases; in these scenarios in fact SSDs are often even cheaper than traditional disks.
So where to start? Any reseller looking to close an SSD deal should make sure they understand the real cost of storage for any given prospect i.e. not only acquisition costs but also maintenance costs, upgrading costs, etc, and then build a business case where solid state storage can fit better than any other technology in the prospect's environment. This is a fairly easy task if the features and benefits of solid state disks are well understood; training companies, associations and analysts are all sources of vendor-independent materials and can help you get a step closer to your next solid state storage sale.
Stay up to date with the latest Channel industry news and analysis with our twice-weekly newsletter
ITPro is a global business technology website providing the latest news, analysis, and business insight for IT decision-makers. Whether it's cyber security, cloud computing, IT infrastructure, or business strategy, we aim to equip leaders with the data they need to make informed IT investments.
For regular updates delivered to your inbox and social feeds, be sure to sign up to our daily newsletter and follow on us LinkedIn and Twitter.