Nutanix carves out niche among top channel players
Nutanix claims its gaining traction with large VARs as an alternative to storage giants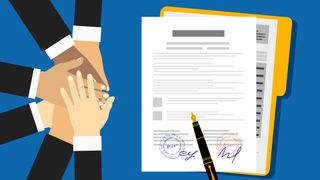 (Image credit: Shutterstock)
Scalable compute and storage vendor Nutanix claims it's gaining a foothold within the UK's biggest channel firms as enterprise customers increasingly seek alternatives to IT heavyweights such as EMC (NYSE:EMC), HP (NYSE:HPQ) and NetApp (NASDAQ:NTAP)
That's according to the firm's SVP of marketing and products, Howard Ting, who claims channel giants can no longer "sit idle and continue to lose deals."
Ting equates the situation with the early days of his former company, Palo Alto Networks, which initially struggled to get traction with the large security VARs because they only carried the likes of Check Point (NASDAQ:CHKP), Cisco (NASDAQ:CSCO) or Juniper (NYSE:JNPR).
"Just like Nutanix, we had lots of resellers that only wanted to carry EMC or HP or NetApp, and now those same partners are losing deals, they're feeling it in their pocket and they now have to come round a little bit," he explains.
As well as recently signing Ultima Business Solutions, Nutanix says it is ramping up its engagement with the likes of one of its original partners, Kelway, and is seeing "a lot of activity" with a pan-European channel player that it's yet to publicly announce.
"We're trying to sign up a handful of partners in each region, and concentrate on building our business with them. We really think that 20 percent of our channel should drive 80 percent of the business, and we're starting to see that with larger and larger resellers," says Ting.
Ting also hinted at "several large transactions in the pipeline" though its relationship with Dell, with which it signed an OEM agreement in June.
Dell will integrate San Jose-based Nutanix's hyper-converged infrastructure software stack on its servers with worldwide shipping set for November.
"These are accounts that on its own, Nutanix would have had a hard time penetrating," says Ting. "It will get us into those very large accounts where procurement would try and stop them purchasing Nutanix, even though the technical people love the product.
"Also it can help us distribute the product in the midmarket and below...They have so much coverage, and feet on the street."
However, the exec is adamant that the Dell deal isn't a signal that Nutanix is turning into a software-only company: "The majority of our business and our revenue will be selling appliances through our resellers – Dell will be incremental to that; they won't be the lion's share of our revenue," he comments.
The five year old company, which was valued at just less than $2bn by its private investors, has around 250 partners in Europe.
Simon Robinson, analyst at 451 Group believes the scalable compute and storage market has a strong future: "The sky's the limit as far as this space is concerned...There's a lot of competition, there's a lot of noise now in this market. It indicates there is a strong customer demand for this type of approach to IT."
Nevertheless, speaking to Channel Pro earlier this year, EMC exec Barry Ader shrugged off the challenge, from Nutanix and a handful of its technology peers, commenting: "I smile a little bit when I hear the smaller guys...that's what a start-up should do. If I were a start-up I'd take on the big guy. They want to be disruptive, and thought of as an alternative to the big guy."
Stay up to date with the latest Channel industry news and analysis with our twice-weekly newsletter
Stay up to date with the latest Channel industry news and analysis with our twice-weekly newsletter
Thank you for signing up to Channel Pro. You will receive a verification email shortly.
There was a problem. Please refresh the page and try again.