Zoho announces SalesInbox
The email client has been exclusively designed for salespeople, prioritising conversations with customers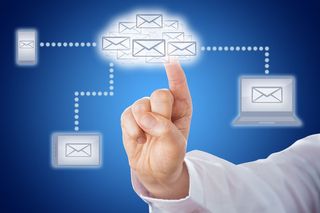 Zoho has announced a range of new CRM tools to help salespeople better connect with their customers and close sales.
SalesInbox is an email client, designed just for salespeople. It integrates with Zoho CRM and prioritises emails according to who they come from. For example, if a sales lead contacts a salesperson, it will prioritise that before emails from colleagues. It will also set the context for the conversation, helping salespeople identify which emails to open, read and respond to first.
Each email will include previous conversations with the contact, so it's easy for users to refresh their memories and CRM updates can be managed right from the inbox, rather than having to switch applications.
Additionally, SalesInbox will also analyse emails, reporting back on how they are performing and because it's available on iOS and Android, plus integrates with Zoho Mail, Gmail, Yahoo! Mail and Outlook, salespeople can use the environment they find most efficient while also gaining valuable insights.
"Email and CRM are the two pieces of software that are the most critical for salespeople. Yet, they usually don't work together very well," said Raju Vegesna, chief evangelist of Zoho. "With Zoho SalesInbox, we're solving that problem and creating a new product category that transforms how salespeople use and interact with email."
Zoho also announced an update to Zoho CRM, allowing salespeople to use email, social media, live chat, and phone conversations to connect with sales leads. This multi-platform approach means prospects can be engaged across channels and insights shared instantly with teams.
"Today, every progressive sales team needs a CRM that connects with customers and prospects regardless of their preferred communication channel," Vegesna said.
"At the same time, the CRM must remain flexible enough to advance the sales process through any channel. Our aim with this release of Zoho CRM is to provide the multichannel support that connects salespeople, prospects and customers and provide the usability enhancements that close more deals."
The update introduces a new interface, supporting Timeline View, which allows visibility of a customer's historical data and interactions with their team, plus advanced filters to enable easier access to valuable insights.
"Our biggest customers have their own set of unique requirements. That is why we continue developing our technology and products to better serve them. Zoho CRM is now fully loaded to help the enterprises of today keep constantly growing," Vegesna finished. "The new additions to our CRM speak to our growing commitment to being a key player for mid-market and enterprise businesses."
Stay up to date with the latest news and analysis from the world of cloud computing with our twice-weekly newsletter
Thank you for signing up to Cloud Pro. You will receive a verification email shortly.
There was a problem. Please refresh the page and try again.