Windows Phone 8.1 released for developers
The Windows Phone 8.1 update boasts some of the biggest changes to the platform since it launched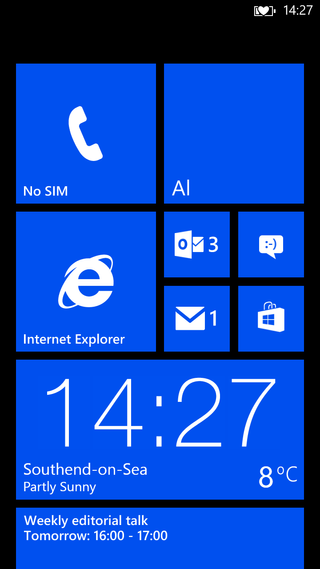 Windows Phone 8.1 has been released to developers two weeks after it was announced at Microsoft's Build Conference in San Francisco.
The update brings with it some of the biggest changes to the mobile OS' appearance since it launched in October 2012.
You can now opt to have up to six columns on the Start screen of Windows Phone devices, whatever the size of the screen. Prevously, this design feature was only available for devices with screens larger than five inches.
Further customisation options include the ability to change the background of the Start screen with a parrallax effect, meaning it moves as you scroll through your phone and tweaked icons throughout.
A couple of new apps are included in the update such as Battery Power Sense to monitor the most power consuming apps, Wi-Fi Sense that allows you to share your Wi-Fi network information with contacts and connect you to preferred networks automatically. Finally, Data Sense allows you to monitor your data usage via your network provider.
There's also a new Action Center onboard that allows you to see all notifications from apps, whether they're on your Start screen or not.
Cortana is perhaps the biggest update in Windows Phone 8.1. the voice recognition and control function rivals Siri and Google Now, although it's only available in the US at the moment so UK developers won't see this in their developer preview.
The Windows Phone 8.1 update is only being rolled out to those signed up to the Windows Phone Preview for Developers programme.
Microsoft hasn't announced when the update will be rolled out to consumers using Windows Phone 8 devices apart from hinting it will be late summer. However, Nokia has said it will come preinstalled on the Nokia Lumia 630 and 635 smartphones that will ship in Asia from May and the Lumia 930 that will follow in the UK later in the year.
A daily dose of IT news, reviews, features and insights, straight to your inbox!
A daily dose of IT news, reviews, features and insights, straight to your inbox!
Thank you for signing up to ITPro. You will receive a verification email shortly.
There was a problem. Please refresh the page and try again.