Tim Cook: Microsoft should have released Office earlier
Apple's CEO says Microsoft would have seen better results if Office for iPad had launched earlier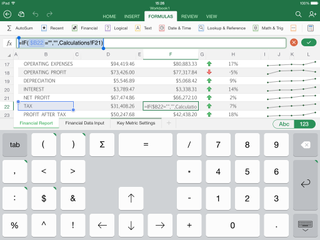 Apple's CEO Tim Cook claims Microsoft launched the iPad version of its Office suite too late and, as a result, download levels weren't as high as they should have been.
iPad use has increased exponentially in the enterprise space, with 98 per cent of the Fortune 500 companies using an iPad and 91 per cent of the activation of tablets in enterprise being iPads, Cook said during the company's latest earnings call.
"Office, I believe [Microsoft Office for iPad] does help. It's very unclear to say how much. I believe if it would have been done earlier, it would have been even better for Microsoft frankly," he said.
The reason he feels this is that there are a lot of alternative productivity suites on the App Store, some of which Apple brought to the market and others that third-party developers introduced.
He continued: "But I do see that Office is still a very key franchise in the enterprise, in particular. And I think having it on iPad is good, and I wholeheartedly welcome Microsoft to the App Store to sell Office. Our customers are clearly responding in a good way that it's available. So, I do think it helps us particularly in the enterprise area."
However, the earnings call did address the problem that although iPad sales came in at the high end of Apple's expectations, they were below analyst estimates.
Cook believes this was because of two factors.
"First, in the March quarter last year, we significantly increased iPad channel inventory, while this year we significantly reduced it," he said.
"Second, we ended the December quarter last year with a substantial backlog with iPad mini that was subsequently shipped in the March quarter, whereas we ended the December quarter this year near supply demand balance."
Apple still believes the tablet market will surpass the PC market in size within the next few years.
A daily dose of IT news, reviews, features and insights, straight to your inbox!
A daily dose of IT news, reviews, features and insights, straight to your inbox!
Thank you for signing up to ITPro. You will receive a verification email shortly.
There was a problem. Please refresh the page and try again.