Gartner: worldwide smartphone demand to slow in 2016
Decreased interest from new markets and more durable handsets will lead to market slowdown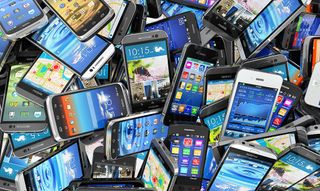 Worldwide smartphone sales are estimated to reach 1.5 billion units in 2016, a new report on device shipments from research group Gartner predicts.
Gartner said this represents just seven per cent growth compared to last year, indicating a reduction in demand for the devices. In January, the analyst house predicted 2016 would be the first time there would be a collective decline in smartphones, tablets and PC sales.
The group's forecast put this change down to flat growth in the major markets of China and North America this year.
"Historically, worsening economic conditions had negligible impact on smartphone sales and spend, but this is no longer the case," said Ranjit Atwal, research director at Gartner. "China and North America smartphone sales are on pace to be flat in 2016, exhibiting a 0.7 per cent and 0.4 per cent growth respectively."
In developed markets, including North America, Western Europe and Japan, Gartner research director Annette Zimmermann said growth is also slowing due to longer smartphone lifetimes.
"As carriers' deals become more complex, users are likely to hold onto phones, especially as the technology updates become incremental rather than exponential," she said. "In addition, the volumes of users upgrading from basic phones to premium phones will slow, with more basic phones being replaced with the same type of phone."
Sales in India, by contrast, are on track for double-digit growth in the next two years, Gartner claimed.
Gartner has also predicted 150 million consumers will delay upgrading to smartphones in the emerging Asia Pacific markets through to 2019, until the functionality and price points becomes more desirable.
The total mobile phone market, which includes feature phones, is forecast by Gartner to reach 1.9 billion units in 2016.
While things may not be looking so good for smartphones, the opposite seems to be happening with PCs.
"In 2016, the PC market will reach its last year of decline before returning to growth in 2017," said Atwal.
Specifically, Gartner predicts a total 284 million PC shipments in 2016, a decline of 1.5 per cent year on year, as well as a fall in traditional PC sales by 6.7 per cent.
Atwal added: "The biggest challenge, and potential benefit for the PC market, is the integration of Windows 10 with Intel's Skylake architecture. It has the potential for new form factors with more attractive features."
A daily dose of IT news, reviews, features and insights, straight to your inbox!
A daily dose of IT news, reviews, features and insights, straight to your inbox!
Thank you for signing up to ITPro. You will receive a verification email shortly.
There was a problem. Please refresh the page and try again.