Port of Southampton becomes Verizon's first private 5G customer in Europe
The deal will support technologies like IoT, real-time analytics, and machine learning across the site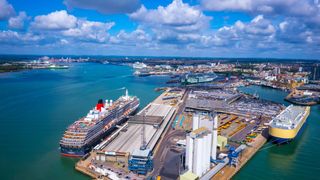 (Image credit: Verizon)
Verizon is working with the Associated British Ports (ABP) to deploy a private 5G network at the Port of Southampton.
The partnership, supported by Nokia, will see Verizon's 5G platform deployed at one of the UK's busiest ports with a secure, low-latency private network connection. It will also make it the first UK mainland port with access to a private 5G network.
The platform will provide ABP with a secure private wireless data network across selected areas within the East and West docks of the port. This will allow data communications to be consolidated onto a single network, which Verizon said will reduce previous complexity and improve the reliability and security of terminal communications.
The networking giant also revealed that the deployment will support new technologies in the future such as real-time analytics, IoT, and machine learning.
"In turn, this can help with the enablement of new service advancements including asset tracking, autonomous guided vehicles, workflow management, predictive maintenance and safety monitoring in the near future," it stated.
"Businesses such as ABP, are coming under more pressure to evolve their services at tremendous speeds in order to take advantage of new commercial opportunities," said Tami Erwin, CEO of Verizon Business.
"Along with Nokia, we have been able to equip ABP to take advantage of the immediate benefits private 5G offers, and most importantly prepare the Port of Southampton to take full advantage of new technology applications and real-time analytics which will digitally transform its services in the future."
ABP operates a network of 21 ports and is responsible for £40 billion in exports from the UK every year. The Port of Southampton is the country's number one port for cars and cruise, handling around 900,000 cars and welcoming millions of cruise passengers annually.
Henrik L. Pedersen, ABP CEO, said that becoming the first mainland port operator in the UK to offer a private 5G network is a "fantastic milestone" for the company.
"We would like to thank our partners for enabling this project, which will equip our Port in Southampton with the state-of-the-art infrastructure needed to be at the forefront of the digital revolution in the maritime industry," he said.
Verizon launched its international private 5G platform for global enterprises in Europe and Asia-Pacific in October 2020. The platform is delivered in partnership with Nokia and allows businesses to deploy a private 5G network capability within their premises on the Nokia Digital Automation Cloud.
Verizon partnered with Unity in January to develop high-speed, low-lag digital experiences ranging from entertainment applications to enterprise toolkits. It was seen as a way for the company to explore how 5G and mobile edge computing can disrupt and transform industries.
A daily dose of IT news, reviews, features and insights, straight to your inbox!
Zach Marzouk is a staff writer for IT Pro, Cloud Pro, and Channel Pro where he writes news articles and in-depth feature pieces primarily focused on Asia Pacific and the US. Aside from covering topics like security, privacy, worker rights, and startups, he also contributes to the IT Pro podcast and IT Pro 20/20.
After studying an undergraduate degree in Arabic and Spanish at the University of Leeds, Zach completed a journalism internship at The Argentina Independent in Buenos Aires where he wrote about the country's history, politics, and technology.
He then joined IT Pro in 2017 where he was introduced to the world of B2B technology as a junior staff writer, before he returned to Argentina in 2018, working in communications and as a copywriter. In 2021, he made his way back to IT Pro as a staff writer during the pandemic.
Contact him at zach.marzouk@futurenet.com or find Zach's thoughts (and more) on Twitter @ZachMarzouk
A daily dose of IT news, reviews, features and insights, straight to your inbox!
Thank you for signing up to ITPro. You will receive a verification email shortly.
There was a problem. Please refresh the page and try again.