How to take a screen shot on BlackBerry
It's not always straightforward knowing how to make a copy of your phone's screen, but this two-step guide will show you how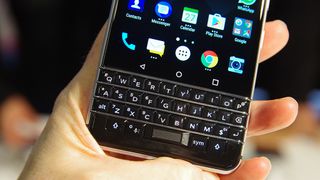 It's not always straightforward knowing how to make a copy of your phone's screen, but this two-step guide will show you how
Taking a screenshot, or 'screen grabbing' on your mobile device is the new copy and paste. And why? Because it's by far one of the easiest ways to replicate information on your smartphone without going to fuss of selecting specific amounts of text, or images, and pasting them somewhere else. The lazy man's copy and paste dream, basically.
Whether it's for your own personal reference or to send on it someone else, by simply taking a screen shot, you can easily record exactly what's on your screen, be it text or images, with a simple button press.
However, phone makers don't necessarily tell you how to do it, and the key press combination required to perform the action isn't exactly easy to work out if you don't know how. Good job then that this quick and easy to-step guide is here to show you how easy it is to take a screenshot on a Blackberry. And guess what, it's probably easier than you think.
Step one: There's something on your Blackberry screen that you want to make a note or copy of for safe keepings. Arrange the content on the screen however you like, remembering that whatever you see is exactly what your screen shot will look like once an image is made.
Step two: To take an exact copy of this and send it to your phone's storage, simply press the Volume Up key and the Volume Down key at the same time. You'll hear your phone make a camera shutter button type sound to confirm it has worked. And that's it; you're done!
Locating the screen shots: To view your screen shot you've just taken, head to the BlackBerry Pictures app, tap the more tabs icon (three horizontal lines) and then tap the date icon (a camera and calendar image). The screen shots should be there waiting for you.
If you have BlackBerry Balance on your device, switch to your work space. In the Pictures app, perform the same action as above.
Stay up to date with the latest Channel industry news and analysis with our twice-weekly newsletter
Stay up to date with the latest Channel industry news and analysis with our twice-weekly newsletter
Thank you for signing up to Channel Pro. You will receive a verification email shortly.
There was a problem. Please refresh the page and try again.