Windows 10 vs Windows 11: Is Windows 10 or 11 better for your business?
Windows 10 is by far the most popular operating system, but is it worth upgrading your business to Windows 11?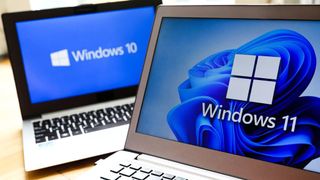 After a somewhat limited initial release, Microsoft has announced that it considers Windows 11, the latest version of its venerable operating system, ready for general deployment. Yet, that doesn't mean it's right for every business.
So, before taking the plunge, it's worth asking: Is Windows 10 or Windows 11 the best operating system for your business? Let's take a look at how things stand right now, and what the pros and cons of making the change are.
Can my business upgrade from Windows 10 to 11 at all?
The first, rather large caveat is that although Windows 11 is 'ready', that only applies to a limited range of Windows laptops and desktops. If your office inventory is more than a couple of years old, there's a good chance that there's no official upgrade path.
Windows 11 only appears as an upgrade option for computers running recent chipsets. In addition, they need hardware assisted security - that is to say support for UEFI firmware, Trusted Platform Module (TPM) 2.0, and support for secure boot. On top of that, your machine needs to have at least 4GB RAM installed and a whopping 64GB of spare storage to run the upgrade.
It may be that a machine is capable of meeting these criteria, but has them switched off by default. That could mean rooting around in the BIOS of each and every machine to activate them, so you'll want to be confident it's worthwhile to make the change. It could even require BIOS updates, which are time-consuming, not to mention nerve wracking.
Is Windows 11 better than Windows 10?
The short answer is that Windows 11 is a primarily cosmetic change for the average user, so it's not necessarily a better operating system for most.
Windows 11 begins to move the Windows environment towards its Fluent Design standards, which better integrates Universal Windows Platform apps alongside traditional Win32 programs, and introduces a few consumer nice-to-haves.
Business users will need a more compelling argument, and there's been a lot of work under the hood that will help workflows and improve security too - so let's dive into that.
Windows 11's new business features
Microsoft could clearly see which way the wind was blowing, even before COVID-19, because much of the new stuff is aimed at helping system administrators manage workforces who have moved to part-time and home working.
The biggest boost in this regard is that deployments of upgrades, patches, and software can all be managed in the cloud. That means you can continue to service, upgrade, monitor, and protect machines that haven't been on company property in months.
For teams, there's... Microsoft Teams, which has finally superseded Skype for Business, with tight integration in Windows 11. If your company is already invested in Slack, or another collaboration suite, this probably won't sway you, but if you're still using Skype for Business, or even still straggling with Lync, both these products have reached end-of-life, so there's a strong argument for killing two birds with one stone with a Windows 11 deployment.
Azure Virtual Desktop is another new addition with Windows 11 that could be game changing for businesses that use virtual apps. Unlike Windows 10 environments, it allows virtualised apps to appear seamlessly alongside those on the local machine, which can save a lot of time on the phone trying to explain the difference to your co-workers.
But perhaps the biggest advantage to Windows 11 is what hasn't changed. Anyone who remembers mass deployment of Windows Vista (which admittedly, most companies didn't bother with) or Windows 8 (an OS so bad that many businesses paid to downgrade back to Windows 7) will be delighted to hear that in terms of driver and software compatibility, the move from Windows 10 to Windows 11 is almost flawless. In theory, after upgrade, there shouldn't be any aftercare to get printers working or afternoons of wrangling with mysterious Windows 11 BSOD incidents - though of course, your experience may differ.
Aside from this, businesses can also choose between two versions of Windows 11, Windows 11 Home or Pro. These are the two most basic options for most Windows laptops and desktops, but make sure you research carefully to find out which is right for your organisation. There are a few differences between Windows 11 Home vs Pro but, depending on your business's size or goals, you might find you don't need to change at all.
What does Windows 10 have that Windows 11 doesn't?
Surprisingly, Windows 11 drops the universal Timeline feature introduced only a couple of years ago. The feature, which allowed users to check their activity from all their devices, going back up to 30 days, was much delayed and is either proving too much for Microsoft developers to maintain, or simply wasn't as popular as they hoped.
Also gone is Tablet mode - which made touchscreen navigation on tablets easier by reverting to the Windows 8-esque tiled interface. Of course, touchscreen compatibility is very much front and centre of Windows 11, but there's a more consistent experience between tablet and desktop instances, with a focus on making touchscreen use easy in any context, not just in tablet mode.
But the biggest potential showstopper for business users is that Windows 11 no longer includes Internet Explorer, which was replaced by the first version of Microsoft Edge alongside the Windows 10 launch, but continued to be bundled in the background. If your business is still relying on webapps that require Internet Explorer, there is a compatibility tab option in the newer Chromium-based Edge, which is now Microsoft's recommended browser. However, experience tells us that compatibility modes are rarely as effective as the native app, so if your webapps are business critical, you may find that this is a good reason to hold off on the Windows 11 journey.
Should my business update Windows 10 to Windows 11?
That really depends on the circumstances at your company. It's quite clear that Microsoft is trying to make the transition as easy as possible this time, but nevertheless, it's always a massive undertaking for any IT department, so think carefully before you commit to what will always involve a certain amount of upheaval.
You may also find yourself doing a lot of hand holding in the early months as there are other smaller changes, too numerous to list here, which will involve some training.
For instance, the shortcut for the Settings interface has been removed from the default Start Menu, making it a little harder for most users to find their way around. It may make sense not to put such options in front of employees, but everyone needs to access the menus from time to time.
Other omissions that might lead to extra support tickets are down the the interface – for example, wallpapers and themes no longer transfer between different machines, and the taskbar can no longer be moved to different parts of the screen - it's firmly wedged to the bottom of the screen, for the first time. However, most of these are cosmetic in nature, and Microsoft may end up reverting some of these changes if the community kicks up enough of a fuss.
There are also a plethora of Windows 11 problems that users will run into from time to time, many of which are unique to the new operating system, and so you may need to update staff support material if a migration does happen.
What's most important is that Windows 11 should easily fit into your company's domains and environments, which makes upgrading a far more attractive proposition than previous newly-hatched Windows iterations have offered. In fact Windows 11's biggest advantage is that its ability to integrate into organisational structure is the best yet.
However, the biggest hurdle you're likely to encounter is Microsoft's fairly narrow criteria for running Windows 11, as detailed above. Technically, there are ways to install Windows 11 on a machine that doesn't meet the requirements, but this will bypass all of the OS' various security improvements, which makes it unsuitable for professional environments.
As an example, for this Windows comparison, we tested a five year old, top-of-the-range Lenovo Ideapad for compatibility. It failed the Windows 11 requirements check on three counts, namely the chipset isn't currently supported, secure boot was switched off by default, and even if it was, the TPM is version 1.2 with no paths for upgrade available. There's plenty of life left in our test machine, which has more than enough processing power and RAM to run Windows 11, in theory, but seems doomed to end its days on Windows 10.
So unless you replace your hardware inventory very regularly, the idea of the upgrade might be moot from the start.
What if my business can't upgrade to Windows 11?
If your machines aren't ready for Windows 11, and can't be updated, don't panic.
Windows 10 will remain in development alongside Windows 11 until October 2025 and it's likely that Microsoft will widen the deployment to older chipsets that meet the other criteria between now and then.
Even if Microsoft keeps the criteria narrow, you will likely be ready to upgrade your device fleet by 2025, if not earlier, at which time you can simply opt for devices that are Windows 11 ready.
Get the ITPro. daily newsletter
Receive our latest news, industry updates, featured resources and more. Sign up today to receive our FREE report on AI cyber crime & security - newly updated for 2023.
Chris Merriman has been writing about technology since the 1990s for a variety of titles including Computer Shopper, MSN, TechRadar, Tom's Guide and The Inquirer, where he broke a number of major tech news stories that were picked up globally. He has appeared on BBC, Sky News and Al Jazeera and was the resident tech expert at TalkRadio for a number of years. In between times, he has also been a consultant for several major tech firms.
Chris is fascinated by automation and the internet of things, as well as the evolution of the ways we communicate in the digital era. He's also a frequent contributor to ITPro's software guides, including Windows operating systems. Other specialisms include storage, peripherals, and web apps, and any gadget he's allowed to take apart and fiddle with, preferably after throwing away the box, manual and receipt.