Centrify: Securing Hadoop a channel opportunity
IAM vendor Centrify talks channel opportunities around securing Hadoop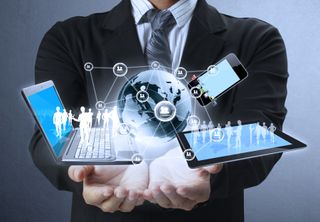 Identity management vendor Centrify is encouraging its partners to take advantage of the specific security issues that have sprung up around the growth of Hadoop.
Hadoop's open source framework enables organisations to store, process and gain insight from big data. Analyst firm Allied Market Research last year predicted the global market for Hadoop would grow from $2bn in 2014 to $50.2bn by 2020, which Centrify's chief technology officer in EMEA, Barry Scott, says is "a massive opportunity for the channel".
He tells Channel Pro: "Over the last 12 months, we've seen an increasing number of our customers start their big data journey. However there are concerns over data security as Hadoop deployments often introduce identity silos that increase risk and identity management costs."
Hadoop deployments can introduce duplicate identity silos or have limitations in their support for complex Active Directory environments. In addition, Hadoop clusters can contain sensitive personally identifiable information (PII). As such, Centrify argues that auditing and controlling user and administrator access to Hadoop and its underlying server infrastructure is important to address both security and compliance requirements for regulations such as SOX, PCI and HIPAA.
Gartner states in a 2014 Gartner report, Protecting Big Data in Hadoop: It is apparent that sensitive data in Hadoop must be protected as well as sensitive data in traditional databases.
"With the advent of Hadoop 2.0 — and the expanded, real-time applications — the likelihood of sharing data among many users and applications rather than isolating each application, as was often the case in the first generation, increases security exposures."
To that end, Centrify has been working on Hadoop-specific additions to its portfolio, culminating in the launch in February of the industry's first privileged identity management solution for Hadoop-based big data infrastructures.
Centrify Server Suite 2015 enables organisations to leverage their existing Active Directory infrastructure to control access, manage privilege, address auditing requirements, and secure machine-to-machine communication with and across their Hadoop clusters, nodes and services.
The exec says Centrify's Identity and Access Management for big data places partners "ahead of the curve in terms of what they can bring to the big data market.
"For the first time in the Hadoop environment, partners will be able to offer simple and secure identity access management; secure machine-to-machine communications; single sign on for IT admins and data analysts; and reduce identity related risk and regulatory compliance."
Scott says Centrify will encourage sales through its existing channel partners, with Hadoop-specific training available.
The vendor will also look to recruit new partners "who may already be part of the Hadoop ecosystem or that specialise in recommending and deploying security and datacentre technology solutions are an ideal fit."
Stay up to date with the latest Channel industry news and analysis with our twice-weekly newsletter
Stay up to date with the latest Channel industry news and analysis with our twice-weekly newsletter
Thank you for signing up to Channel Pro. You will receive a verification email shortly.
There was a problem. Please refresh the page and try again.