Vendor integration can allay the burden of choice in a crowded security market
How feeding into a new kind of infrastructure presents opportunities for the channel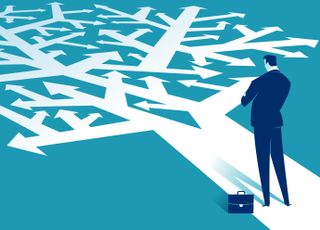 (Image credit: Shutterstock)
The cyber security market is bursting with innovative new products designed to help businesses defend against an onslaught of increasingly sophisticated breaches. This is highly valuable to teams who recognise that the threats they must deal with are evolving, especially as threat actors themselves become more innovative.
With machine battling against machine it's clear technological advancement gives cyber security an advantage, So new technologies are welcome, but there's a concern that customers are becoming overloaded with choice. Indeed, some are actually calling for fewer tools to make prevention and remediation simpler, and for vendors to consolidate to make this happen.
It's critical that new ways to mitigate the effects of a cyber attack are being tested and brought to market as frequently as possible, and it's only possible through a mix of large and small players. After all, no single vendor or single programme can create all the new tech that's needed for the evolving landscape, so businesses hoping to succeed in the cyber security industry will always require multiple point-products from multiple vendors.
A new kind of infrastructure
Most vendors offer the tools designed to either one, or a few, functions, given that any single vendor is either too large to be agile, or too small to boast an array of features. The pressure falls on cyber security teams, then, to orchestrate how these functions perform together - from several different vendors - in order to achieve the right security posture for their organisation.
This, however, is taking time-consuming given that each individual service competes for their attention. It, therefore, seems that it's really fewer vendors that customers really need, not more. But the real question is consolidating how the tools themselves operate, with the most efficient way to implement a new kind of infrastructure operating on an 'app store' model.
By helping customers to select operating platforms that can scale and automate how cyber security is applied, the channel can make the most of this demand for streamlined applications. Customers want a new model that helps them benefit from the latest advancements in cyber security, without requiring piecemeal deployments. This is where the channel can support such a new model.
There's an app for that
By creating platforms that absorb innovations, and monitor them easily appropriately in the cloud, in one place, customers can benefit from the services of multiple vendors, with the ease of use of signing up with just one. As platforms such as this become more commonplace, it'll be increasingly important for the channel to evaluate how open those platforms are as an infrastructure that supports innovation. The value of such a platform lies in how it can offer a rich data resource available to third-party developers to create new cyber security apps to further simplify how teams can secure digital processes and assets.
Extending the platform model with an application framework also creates opportunities for specialist partners to create their own apps built on the same shared infrastructure. Apps can use this platform to gain access to data organised for analytics - across the cloud, network and endpoint - to make their services more effective and bespoke. Data would be specific to the individual business, meaning said business can maintain their privacy, while delivering increased value from sharing intelligence with their provider.
This app-based model could also better support smaller vendors, many of which are the leading innovators in one specific area. It'll allow them to do what they're good at best, and not push them to become a jack-of-all-trades but the master of none.
While vendor consolidation has a certain appeal for people who delight in the rise and fall of brands, the reality is that cyber security will be advanced by vendor integration instead, and by security platforms that protect our digital lives more easily and securely.
Dave Allen is vice president for Western Europe with Palo Alto Networks
Stay up to date with the latest Channel industry news and analysis with our twice-weekly newsletter
Stay up to date with the latest Channel industry news and analysis with our twice-weekly newsletter
Thank you for signing up to Channel Pro. You will receive a verification email shortly.
There was a problem. Please refresh the page and try again.