Microsoft unleashes Office app for Windows 10
The app can be used by any Windows 10 customer, whether they have an Office 365 subscription or not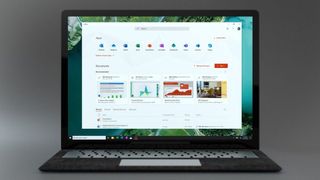 Microsoft has formally announced its Office app for Windows 10, helping Windows 10 users organise and access their documents, apps and files on demand, even if they aren't paying for the company's full-fat productivity suite.
It's an update to the former My Office app and will come preinstalled on Windows 10 machines, allowing users to access the power of Office, even if they don't have an Office 365 subscription and are using the free version of Office Online.
If the user has Microsoft's productivity applications installed on their device, it will open from the Office app, but if they don't, they will be taken to the online version of Office, where they are able to read and edit files.
The Office app will also keep track of the most-used documents so they can be accessed faster and from a centralised place. As is the case with rival Google Drive, these are pinned to the opening screen of Office, where you can also view files shared with you by others in a few clicks.
In future, Microsoft will introduce extra capabilities for IT administrators, including the ability to brand it with their organisation's logo and colour scheme, access third-party apps using AAD and integrate Microsoft Search so users can use a single dashboard to find documents and people from across the organisation.
"The Office app provides users with a simple experience that helps them get to what they need quickly whether that's an app, a document, or even a person in your organization," Microsoft's Bill Doll wrote in a blog post.
A daily dose of IT news, reviews, features and insights, straight to your inbox!
A daily dose of IT news, reviews, features and insights, straight to your inbox!
Thank you for signing up to ITPro. You will receive a verification email shortly.
There was a problem. Please refresh the page and try again.