Blue Solutions claims first with LabTech
Blue Solutions and LabTech team up to target UK MSPs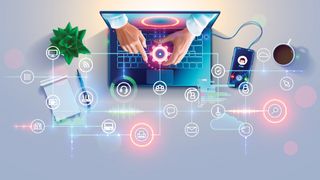 Distributor Blue Solutions is heralding its signing of LabTech Software as first for the channel, claiming it's the only deal in place to provide remote monitoring and management (RMM) software to UK resellers.
The firm describes the LabTech's platform as being "developed by [an] MSP for Managed Service Providers".
Florida-based LabTech will be looking to recreate its success in the US, where is gained an estimated 100 new MSPs per month in 2011. Blue Solutions will be responsible for recruiting UK resellers looking to move into the MSP space.
According to the vendor, the latest version of LabTech RMM enables MSPs to provide non-disruptive, remote IT support to customers with centralised visibility into their systems.
"We're really excited to have LabTech onboard," says Mark Charleton, co-founder and director at Blue Solutions (pictured), who earlier this year revealed the distributor would be cooling its relationship with a number of software giants in its portfolio in favour of introducing more up-and-coming firms to the UK market.
"We only work with vendors that we believe have products and services that add competitive advantage to our resellers' businesses. LabTech RMM is a perfect example. It is a unique solution that enables improved efficiency of support provision, better quality of service, and dramatic cost reduction."
LabTech says it is committed to the channel and will offer dedicated training schedules, an annual partner conference and regular software updates.
"We appreciate Blue Solutions for their commitment to small to medium resellers and MSPs," says Matt Nachtrab, LabTech Software CEO. "With complementary vendors, an established network of resellers, a growing team of in-house product experts, Blue Solutions is an ideal representative for LabTech in the UK channel."
Stay up to date with the latest Channel industry news and analysis with our twice-weekly newsletter
Stay up to date with the latest Channel industry news and analysis with our twice-weekly newsletter
Thank you for signing up to Channel Pro. You will receive a verification email shortly.
There was a problem. Please refresh the page and try again.