SimpliVity CEO plays it cool as hyperconvergence heats up
SimpliVity CEO Doron Kempel talks rivals, IPOs and why everyone wants to cash in on hyperconvergence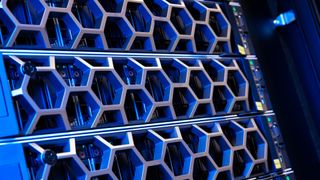 (Image credit: Shutterstock)
SimpliVity CEO Doron Kempel has said he welcomes new players into the increasingly competitive hyperconvergence arena, declaring "2016 will cement the landscape" of the technology.
Speaking at the vendor's recent SimpliVity Connect event, Kempel (pictured below) laid out the firm's roadmap and responded to the launch of a new rival in Cisco's new HyperFlex solution.
SimpliVity partners with both Cisco and Lenovo to deliver its software with their servers. However, since signing an agreement with Cisco in Q4 2014 to bundle its OminiStack solution with its UCS servers, Cisco has launched its own hyperconvergence offering, HyperFlex, which competes directly with SimpliVity.
Kempel, however, remains pragmatic about the situation. "That doesn't change anything for us," he says. "Of course, we'd like to be the only spouse not it's not realistic…We're going to continue to be very respectful, and great partners to Cisco. Of course, they're a bit more important for us than we are to them. They are a very large company and we have a great deal of respect for them."
The CEO says that Cisco has helped SimpliVity access the enterprise space, selling 1,000 units to date to hundreds of customers – but that industry watchers need to understand the dynamic between the networking giant and the emerging player.
"We'd love Cisco to promote SimpliVity, but with all of our success with Cisco – a thousand systems in three-quarters with some of the biggest companies in the world – has Cisco ever promoted us? To make it seem like there was a big marriage and everyone stated their love for the other party? That never happened. Server vendors have never promoted us; we've always promoted them. We're going to continue promoting them – we're promoting them right now – Cisco's a great company."
Crowded market
With hyperconvergence the latest industry buzzword on everyone's' lips, the technology combines computing, storage, and networking into one platform.
SimpliVity claims its offering offers "public-cloud-like economics and simplicity," with use cases in the private, pubic and hybrid cloud as well as in the datacentre, remote and branch offices and other points of entry across enterprise and midmarket.
However, Cisco isn't the other big vendor looking to carve a share of the burgeoning hyperconverged market. For instance, VCE, the dedicated hyperconvergence division of EMC, earlier this year launched VxRail, an appliance aimed at the lucrative midmarket segment.
"In the real world, I like the fact that the large companies are embracing this space," comments Kempel. "You can't have your cake and eat it."
At the other end of the spectrum, the company most closely compared to SimpliVity is Nutanix, another VC-backed player presenting itself as a disruptive force in a storage space dominated by the likes of EMC, NetApp and HP.
Both companies founded at the same time, in September 2009. However, Nutanix went to market in 2011, while SimpliVity took another two years to develop its OmniCube offering.
"We have great respect for Nutanix, they are two years ahead of us in the market, and they sell more volume than we do. VCE is five years' ahead of us in the market and sells far more than Nutanix…We can't be discouraged by people who have been here for a longer period of time and sell more than us," says Kempel.
While SimpliVity doesn't offer its own hypervisor, it probably provides the most comprehensive feature set in the space, converging server, storage, switching, WAN optimisation as well as backup and de-duplication, integrating with the likes of Data Domain, Riverbed and StorSimple.
Its own research indicates that one of the firm's key strengths are these extra capabilities, with 90 percent of its customers using the built-in backup/recovery. 51 percent of customers also replaced existing third party backup or replication software in lieu of SimpliVity's own data protection features.
Acquisition?
Kempel, meanwhile, says he welcomes new players "because it legitimises the technology."
"This is how it's going to pay out this year: the large vendors are going to create a lot of marketing noise – that's good, it legitimises the industry – the second half, everybody's going to be looking for dancing partners….the difference this time? Nutanix and SimpliVity have raised more than $500m. The large incumbents – in particular, EMC, Dell, VMware, NetApp, HP – I'm not sure they have the M&A reserves to do a large acquisition right now."
He continues: "If someone wants to acquire Nutanix, it's going to be very expensive, the investors have significant expectations. I'm not sure the [incumbent] companies have the balance sheet to do that."
While Nutanix applied to go public in December 2015, Kempel suggests SimpliVity won't be following its rival down the IPO path just yet.
"We view an IPO as a pit stop. It's not an end, it's a means. But right now the market isn't very friendly to people so we're not focusing on an IPO. But it will arrive at some point in time. But we need to make sure we're not dependent on an IPO; you get the wrong investors on board and they start pressuring you, it creates a very uneasy dynamic in the boardroom," he explains.
SimpliVity now has 750 employees globally after expanding the business to 24 countries –it now has 20 staff in the UK – and 50 percent of its revenues are now generated from outside North America.
Stay up to date with the latest Channel industry news and analysis with our twice-weekly newsletter
Stay up to date with the latest Channel industry news and analysis with our twice-weekly newsletter
Thank you for signing up to Channel Pro. You will receive a verification email shortly.
There was a problem. Please refresh the page and try again.