Data warehouse automation: what you need to know
In the dark about data warehousing? You're not alone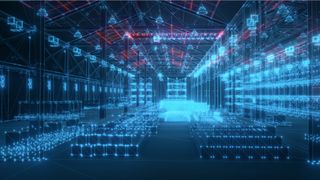 (Image credit: Shutterstock)
You would be forgiven for not knowing data warehousing exists, let alone that it's been automated. It's not a topic that gets a lot of coverage in the UK, unlike in the USA and Europe. It might be that Business Intelligence and Big Data Analytics are topics that have more 'curb' appeal. But, without data warehousing, data analytics would not generate the quality of business intelligence that organisations rely on. So what is a data warehouse and why did it need to be automated?
Here's what you need to know about data warehouse automation.
In its most basic form a data warehouse is a repository where all your data is put, so that it can be analysed for business insight, and most business have one. Your customers will most likely have one because they need the kind of insight data analysis provides. Business Insight or Intelligence (BI) helps the business make accurate decisions, stay competitive and ultimately profitable.
In retail, for example, the accurate and timely reporting of sales, inventory, discounts and profit is critical to getting a consolidated view of the business at all levels and at all locations. In addition, analysing customer data can inform businesses which promotions work, which products sell, which locations work best, what loyalty vouchers and schemes are working, and which are not. Knowing customer demographics can help retailers to cross or upsell items. By analysing customer data companies can tailor products to the right specification, at the right time thereby improving customer relations and ultimately increasing customer retention.
Analysing all the data
But, this is only part of the picture. The best intelligence will come from an analysis of all the data the company has. There are several places where companies get data. They usually have their own internal systems that have finance data, HR data, sales data, and other data specific to its business. In addition, most of your customers will now also collect data from the internet and social media (Big Data), with new data coming in from sensors, GPS and smart devices (IoT data). The data warehouse can pull any kind of data from any source into one single place for analysis. A lack of cross-pollination across the business can lead to missed opportunities and a limited corporate view.
Previously, to get the data from its source (internal or external) into the data warehouse involved writing code by hand. This was monotonous, slow and laborious. It meant that the data warehouse took months to build, and then was rigidly stuck to the coding (and therefore design) it had been built with. Any changes that needed to be made, were equally slow and time consuming creating a frustration for both the IT and the Business. For the business, the data often took so long to be produced that it was out of date by the time they had it.
Automation
Things have moved on since the days of the traditional data warehouse and now the design and build of a data warehouse is automated, optimised and wizard driven. It means that the coding is generated automatically. With automation, data is available at the push of a button. Your customers don't have to be an IT expert to create reports and employees don't need to ask head office if they want information on a particular product line. Even more importantly, when you automate the data warehouse lifecycle you make it agile, so as your business grows and changes the warehouse can adapt. As we all know, it's a false economy to invest in a short-term solution, which in a few years, will not be fit for purpose. Equally, it's no good paying for excellent business intelligence tools and fancy reporting dashboards if the data underneath is not fully accessible, accurate and flexible.
What does this mean for the channel?
So now you know the importance of a data warehouse for data analytics, and how automation has brought data warehousing into the 21st century. So, what next? What does this mean for the channel?
Not everyone in the channel will be interested in automation. Faster more efficient projects might not look like they will generate the immediate profit margins or revenue of a longer, slower one. But, innovative channel partners will be able to see that there are two clear advantages for them. One is that the projects, whilst shorter, never really end. This means there is a consistent stream of income. Secondly, by knowing about and offering your clients data warehouse automation the channel partner shows their expertise and consultancy abilities.
The simple fact is that most companies have a data warehouse of some kind, from the giant supermarkets such as Tesco and Sainsbury, to smaller businesses like David Lloyd or Jersey Electricity. You don't want to be the channel partner who didn't know about or didn't recommend the best, most efficient solution for your client. This could impact more than just the immediate sales. By educating your customers about the benefits of data warehouse automation you will bring them a wealth of efficiencies to their company, and most likely a wealth of future recommendations to yours.
Rob Mellor is GM of mainland Europe, WhereScape
Stay up to date with the latest Channel industry news and analysis with our twice-weekly newsletter
Stay up to date with the latest Channel industry news and analysis with our twice-weekly newsletter
Thank you for signing up to Channel Pro. You will receive a verification email shortly.
There was a problem. Please refresh the page and try again.