Can the channel help kick-start the UK's productivity?
With so much technology designed to drive efficiency, why are SMBs still struggling with productivity?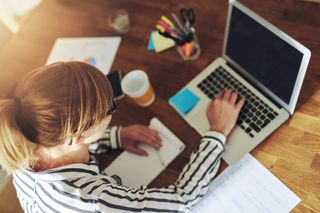 Even though Britain grew faster than any other G7 country in 2014, the UK's recent drop in productivity has become the subject of news headlines.
Of the many reasons cited for the productivity fall, most typically they include recognition that the country has a surplus of workers.Inn some cases, workers who are on zero-hour contracts could have job security concerns or face low pay. Factors like these could affect staff motivation, which in turn could impact productivity.
Additionally, when labour is inexpensive and easy to find, businesses can be reluctant to make a capital cost investment in productivity-enhancing technologies, choosing instead to opt for low-paid and dispensable staff. That is a strategy that could well be detrimental to both short- and long-term productivity.
At the same time, in a recovering but still fragile economy, some industries are now working harder to achieve the results they used to enjoy in more buoyant economic times. Therefore, sales teams may well be making more outbound calls than before, but they may not have experienced a relative increase in actual sales. In that scenario, more effort put in isn't always rewarded with increased sales.
Of course, while measuring and comparing productivity across different sectors is difficult, what makes this overall productivity conundrum especially surprising is the era in which this has happened – in other words, this era of constant connectivity, increased mobility and workplace flexibility. Add to that the fact that there is so much affordable technology available that has been designed to drive efficiency and productivity in the workplace, it's no wonder that the decline in productivity has resulted in so many furrowed brows.
Maybe a clue to the puzzle can be found in Small to Medium Businesses (SMBs). A recent report compiled by Marketiers4DC showed that the efficiency of SMBs in the UK is – in part – being hindered by the management and creation of text-based documents, including reports, contracts, funding applications, tender documents and marketing collateral. This really needn't be the case given the considerable progress made in efficiency-driving and proven productivity-boosting solutions including accurate desktop speech recognition technology like Dragon and the emergence of powerful yet affordable new PDF solutions.
The report, entitled "Better technology, greater efficiency", also points to another reason behind the productivity bottleneck. 41 percent of SMBs stated they don't have the time to consider what potential improvements they could make to their efficiency. They were also unaware that productivity improvements could be driven by simple IT upgrades. However, the research also showed that a barrier to them actually achieving greater efficiencies is the rate at which they review their software requirements – which isn't frequently.
A third of SMBs stated they review them only every year, every 18 months or longer. When you consider the pace at which technology develops, there is the risk that some SMBs are missing out on the opportunity to be not just more productive, but more competitive and – ultimately – successful. Until then, it seems odd that despite the world increasingly conducting business electronically, many organisations – and not just SMBs – are still tied to time-consuming and outmoded processes for creating and managing essential paper-based documents.
Perhaps then the UK's productivity challenge presents both distributors and resellers with a new and highly valid talking point, especially if SMBs are their target market. With SMBs accounting for 99.9 percent of private sector companies, maybe the channel has a role to play in kick-starting the UK's productivity drive, by working with companies to help them ensure their business – and its contribution to the economy overall – isn't being shackled by out of date or uncompetitive technology or processes.
This help could come in the form of Business Builder packages that assesses a company's current technology stack, how it impacts productivity, while providing advice and proof points about technology or workflow processes that optimise productivity. Even a bundle of enticingly-priced productivity solutions could be a small step that, cumulativlety, could make up the productivity shortfall.
Of course, that won't be a panacea for the problem, nor is there a short answer to the UK's productivity paradox what with its roots being buried in politics, local and global economics and even plain old bad business practice.
However, as a starting point for getting back on track, if the channel can continue to harness its knowledge and experience to help SMBs deploy truly innovative products, processes and solutions – while training them to give them the skills needed to maximise their investment – then maybe the channel's support is part of what's needed to get the UK's productivity back on track.
Steven Steenhaut is senior director global demand centre, Nuance Communications
Stay up to date with the latest Channel industry news and analysis with our twice-weekly newsletter
Stay up to date with the latest Channel industry news and analysis with our twice-weekly newsletter
Thank you for signing up to Channel Pro. You will receive a verification email shortly.
There was a problem. Please refresh the page and try again.