The new reseller landscape
The UK tech market is looking healthy. Research from the Global Technology Distribution Council suggests that in January 2011, IT distribution registered sales eight percent higher than a year ago.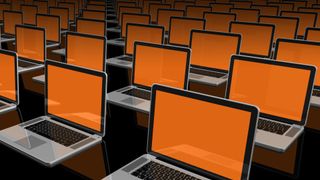 As well as underlining the strength of the industry, it is in part being driven by technological developments. Speaking just for LG, we are seeing great interest in our new monitor ranges, particularly the new IPS range which we think is technically very good thanks to the LED backlight, and (also thanks to the backlight) reduces energy consumption so it earns a green tick, too, whilst hitting the sweet spot for price.
But I believe the overall good news masks a distinct shift in the distribution channel. There is a lot of consolidation in the reseller market, by and large caused by big fish eating little fish. Usually those smaller resellers are being bought for their contracts and contacts.
Resources
I am certainly not here to criticise this trend. It is being driven by market forces, which are usually a reliable guide. And I would also emphasise that the channel is still diversified: we trade with a broad mix of resellers each month.
But the move is leaving us with fewer specialists, and bigger and more demanding generalists. That has an impact on the manufacturer, and the resources we have to allocate to the channel.
We can probably split this into two areas. First, there are established product groups, where one reseller may be handling a number of competing manufacturers' lines. Here we have to fight for attention, with extended marketing efforts and promotions to make sure the sometimes subtle differences are clearly understood.
I mentioned our latest monitor ranges earlier. We have to make sure that the details, like low power consumption, are clearly understood, so the reseller will have a good reason to suggest our product rather than reach for the first box on the shelf.
But price will always be a factor, and at the moment pricing is particularly aggressive. So the other tactic has to be to persuade people to look at things in a new way. Manufacturers with imaginative solutions to regular problems have a real advantage here.
Again, to use an LG example, we have a system called Network Monitor, aimed at multi-user environments like schools and colleges. For routine applications, today's PC is wildly over-powered. What the E-Series Network Monitor does is, effectively, run a number of users (up to 31) on a single PC, each with their own keyboard, mouse and screen. It can make a typical ICT budget go a lot further.
Relationships
This, though, is not a sale that will walk through the door, at least not at the moment. It requires a reseller with the right relationships and technical expertise, with the appropriate users, and with the time and initiative to offer it as a way of getting more for less. That, in turn, suggests that there is still a need for good specialist or local resellers who can add value continue developing relationships. And, in turn, the manufacturer has to identify those resellers and equip them with the knowledge and support they need.
In conclusion, consolidation in the channel is making life tougher for manufacturers. Those who have the right products, and innovative new solutions – and who are preparing to put the effort in to understanding and supporting the changing reseller environment – will still succeed.
Stay up to date with the latest Channel industry news and analysis with our twice-weekly newsletter
Stay up to date with the latest Channel industry news and analysis with our twice-weekly newsletter
Thank you for signing up to Channel Pro. You will receive a verification email shortly.
There was a problem. Please refresh the page and try again.