Liam Maxwell commits to government CTO role until 2018
Government CTO vows to remain in role beyond the 2015 general election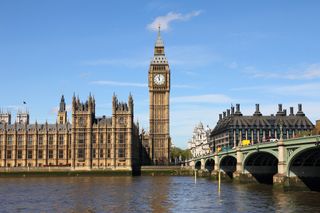 Liam Maxwell will stay on in his role as government chief technology officer beyond the next general election.
He has served in the role since December 2012 under Government Digital Service (GDS) director Mike Bracken. Previously, Maxwell was a Conservative councillor at the Royal Borough of Windsor and Maidenhead with responsibility for IT policy.
Bracken, who was appointed to his role in July 2011, said Maxwell's decision to stay was "good news for all sorts of reasons".
In a blog post, Bracken said Maxwell was "an important force for change".
"Liam and his team have started the process of redesigning technology governance in government from top-to-bottom. Gone is the astonishing complexity that used to govern how we bought and procured IT in the past," said Bracken.
Maxwell said he was "really proud" of the team he has helped to build and be "part of the excellent team of technology leaders across government."
"Together we are going to work for and with departments to deliver the modern and user-focused technology we need, and I'm really happy to sign up for the next stage of this exciting journey to build a digital government based on user needs," he said.
Bracken added that momentum had to be kept up. "We need more time to make bigger, more ambitious changes happen, then let them settle down and become the new normal. With Liam as CTO for at least the next three years, I'm confident that's going to happen," he said.
Georgina O'Toole, director at analyst house TechMarketview, said in a blog post the decision on Maxwell to stay on after the next election would "surprise many" given his Conservative affiliation.
"We must admit that we had previously considered it unlikely that Maxwell would remain onboard after the next General Election if there were a change in government. We'd always viewed him as something of a political animal," she said.
O'Toole warned that moving away from monolithic legacy systems at the heart of government is "not going to happen overnight".
"Too often in Government difficult, long-running, programmes never make headway because the people driving the programme move on. Maxwell should be praised for wanting to see things through."
A daily dose of IT news, reviews, features and insights, straight to your inbox!
Rene Millman is a freelance writer and broadcaster who covers cybersecurity, AI, IoT, and the cloud. He also works as a contributing analyst at GigaOm and has previously worked as an analyst for Gartner covering the infrastructure market. He has made numerous television appearances to give his views and expertise on technology trends and companies that affect and shape our lives. You can follow Rene Millman on Twitter.
A daily dose of IT news, reviews, features and insights, straight to your inbox!
Thank you for signing up to ITPro. You will receive a verification email shortly.
There was a problem. Please refresh the page and try again.