Silicon Roundabout is falling out of favour with startups
Lower rents make surrounding areas more attractive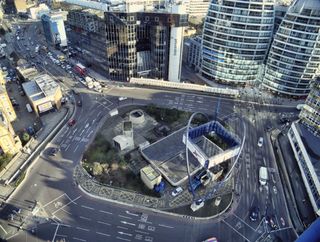 Silicon Roundabout has fallen out of favour with UK tech startups, according to analysis by accountancy firm UHY Hacker Young.
The number of companies setting up shop around Old Street Roundabout, which was dubbed Silicon Roundabout after California's Silicon Valley, has reduced by 70% in the last year as companies seek cheaper places to run their business, the firm discovered by studying HMRC data.
"Silicon Roundabout has fallen off the top spot in terms of new business creation; it is a victim of its own success," said Colin Jones, partner at UHY Hacker Young.
"The Silicon Roundabout area gained popularity with internet companies originally due to its historically low rents. Now that rents have soared, the area has lost its competitive advantage."
He explained that the money raised by the tech and Fintech sectors which enabled them to keep paying the higher rents has started to peter out and, as a result, startups have started to look further afield for their HQ.
"Silicon Roundabout remains an important hub but London's tech cluster is now expanding and City Road has become the newest development corridor," he explained.
Other locations emerging as desirable tech centres include Leicester Square, which experienced a 142% increase in the number of new businesses created and Warrington, which experienced growth thanks to companies including Arcadis and United Utilities opening their offices there.
That said, London still remains the top hotspot for new tech businesses to set up. "When analysing the data it is evident that new business creation is heavily concentrated in London, which reflects broader trends as the capital's economy continues to power ahead of regional cities," Jones concluded.
A daily dose of IT news, reviews, features and insights, straight to your inbox!
A daily dose of IT news, reviews, features and insights, straight to your inbox!
Thank you for signing up to ITPro. You will receive a verification email shortly.
There was a problem. Please refresh the page and try again.