BYOD is about the people, not the technology
Experts gathered to debate the merits of BYOD and agreed that users must be at the heart of any such strategy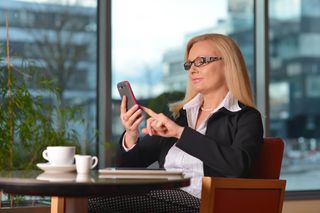 Figure out what makes people tick and everything else will fall into place.
That was the key theme that emerged from our Good BYOD/Bad BYOD roundtable breakfast briefing this week, which brought together expert speakers and an array of IT decision makers to discuss and debate what works and what doesn't.
"If you can understand what the human beings are doing you can be much more mindful about technology," said speaker Dave Coplin, chief envisioning officer at Microsoft, who pointed out that although IT has evolved over the years, we're still using technology to essentially do the same things at work.
However, Coplin added that our personal lives have been shaped and dramatically changed by technology, meaning we have greater expectations in and out of the office and are frustrated by the apparent 'department of no'
"In the IT industry, we have forgotten the experience that is happening in people's personal lives. We have grandparents Skype-ing grand kids and so on. At work, though, people are greeted by some long bearded person like me saying 'no'."
He also warned: "If we don't get this right the only thing left for us is not to work smarter but work harder and I refuse to accept that."
Mark Evans, head of IT at construction firm RLB concurred that too often we let technology get in the way of what we are really trying to achieve from a business perspective.
"I asked our HR department about six years ago whether we hired the best people or just the best people who live in commuting distance of one of our regional offices. If we hired the David or Davina Beckham of quantity surveying and they lived in Truro, would they be willing to commute to our office in Bristol?" he said.
"Two years ago, I asked again whether we employed the best people. Or do we employ the best people who use windows? We are immediately crippling someone who could bring real value to the business [by handing them PCs automatically].
"That's not a criticism of Windows, but because it's alien to them they're hampered."
A daily dose of IT news, reviews, features and insights, straight to your inbox!
Maggie has been a journalist since 1999. She started her career as an editorial assistant on then-weekly magazine Computing, before working her way up to senior reporter level. After several years on the magazine, she moved to 'the other side of the fence' to work as a copywriter for a marketing agency, writing case studies and working on ad and website copy for companies such as eBay, Dell, Microsoft and more. In 2006, just weeks before IT Pro was launched, Maggie joined Dennis Publishing as a reporter. Having worked her way up to editor of IT Pro, she was appointed group editor of Cloud Pro and IT Pro in April 2012. She became the editorial director and took responsibility for Channel Pro, in 2016. Her areas of particular interest, aside from cloud, include management and C-level issues, the business value of technology, green and environmental issues and careers to name but a few.
A daily dose of IT news, reviews, features and insights, straight to your inbox!
Thank you for signing up to ITPro. You will receive a verification email shortly.
There was a problem. Please refresh the page and try again.