IBM offers states free Watson Assistant to help inform voters
States will have free access to IBM Watson Assistant for 60 days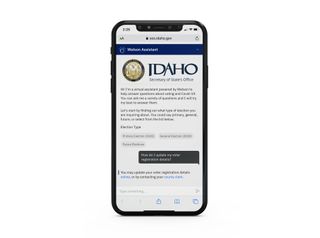 With less than two months to go until the Nov. 3 presidential election, IBM has announced it's working with states to put critical information into voters' hands for free.
By leveraging Watson Assistant's artificial intelligence (AI) and natural language processing capabilities, IBM says it's helping voters online and via phone by answering queries on everything from locating their polling place and determining voting hours to learning more about voting procedures and deadlines for requesting mail-in ballots.
Using Watson Discovery, Watson Assistant can provide currently available data about voting processes and logistics from external sources, including federal, state and county websites, local news reports, and other websites' documents.
Watson Assistant also includes access to 25 pretrained queries specific to voting and election logistics. Using advanced natural language processing built by IBM Research, Watson Assistant automates responses to frequently asked questions such as:
"When is my absentee ballot due?"
"How do I request an absentee ballot?"
"How do I update my voter registration details?"
"When will my polling location be open?".
States can work with IBM to further customize Watson Assistant to include additional questions specific to their state or county. It can also be integrated with back-end ERP systems.
"Early in the pandemic, we mobilized Watson and its natural language processing technology to help organizations quickly deliver critical information and services to citizens, customers, and employees," said Daniel Hernandez, general manager of data and AI at IBM.
Hernandez added, "With success there and the upcoming U.S. election, we are now mobilizing Watson to manage the flood of information requests and questions from citizens regarding voting logistics and resources."
Idaho put Watson Assistant to the test when the coronavirus forced it to cancel in-person voting for its May primary election. Using Watson Assistant, the Idaho Secretary of State's Office communicated to voters how to cast their ballots by mail using its existing absentee voting system. Heading into the presidential election, Idaho will continue using Watson Assistant to field voter queries.
"In short turn, our office needed to communicate the registration and absentee ballot procedures to Idaho voters, and we were bracing ourselves for a wave of calls," said Idaho Chief Deputy Secretary of State Chad Houck.
"In just two weeks, two of our people got started with Watson Assistant and trained it to provide important information about how and when to vote. We're now exploring its capabilities throughout the remainder of this election season and beyond to help convey information about the other services and functions we provide for the people of Idaho," Houck continued.
To help address citizens' voting-related inquiries online or by phone, IBM is offering Watson Assistant to states at no charge for 60 days. As part of this offering, IBM will assist with the initial set up of Watson Assistant.
A daily dose of IT news, reviews, features and insights, straight to your inbox!
A daily dose of IT news, reviews, features and insights, straight to your inbox!
Thank you for signing up to ITPro. You will receive a verification email shortly.
There was a problem. Please refresh the page and try again.