Why the channel should throw its chips down for RPA
Thinking of backing AI? Dean McGlone argues why robotic process automation is the better bet for now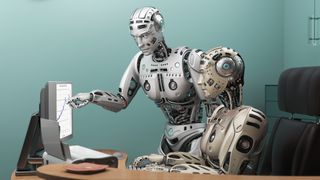 Artificial Intelligence (AI) is tipped to revolutionise how organisations fundamentally work, and, for some firms, the change is already underway. Microsoft is growing its AI partner network to accelerate AI adoption among its end users, while IT resellers are redefining their business strategies to position themselves as experts in the field.
Meanwhile, Deloitte boldly claims that nine in 10 UK companies will have invested in AI by 2020. Granted, AI has earned its place as one of the most exciting technologies to emerge in the last few years, but we mustn't forget that many organisations are still some way behind. Many firms, for example, are yet to adopt technologies like the cloud, let alone AI, so there's still a lot of work to do.
In light of this, we should actually be taking a step back and re-evaluating what really matters, rather than be blindsided by technologies that, by and large, are in an embryonic stage. This is where technologies like robotic process automation (RPA) spring to mind.
Automating the back office
There are technologies out there far more accessible than AI right now. RPA is a prime example, given it's equally capable of automating mundane tasks performed by humans. Like AI, it can relieve teams from repetitive work to focus on higher-value and strategic activities.
But RPA is engaged in a tussle with AI - fighting to move from its shadows. End users are prioritising AI at the expense of RPA which means they risk missing out on major operational efficiencies. By focusing almost exclusively on AI, businesses are failing to realise how RPA can help them achieve significant time and cost savings.
AI demands time and financial investment that many businesses struggle to afford in the short-term, while RPA is easier to access, expand and scale. It means that automation is within reach for all, and sooner - and it's something the channel can't ignore.
RPA can specifically benefit a range of critical processes from finance and HR right through to procurement and the supply chain, with research demonstrating an appetite for RPA among firms and their employees.
By automating manual and usually administrative-heavy processes, organisations can drive unprecedented staff productivity and efficiency levels as well as benefit from increased visibility into the entire organisation and better data for reporting to the board.
This isn't to say that businesses must turn their backs on AI. It'll still play a key role in many organisations' digital transformation journeys. However, just like any investment, a move to AI, and indeed RPA, should be considered with the same level of due diligence. This is where the channel can help, with partners and resellers working with end users to realise the power of RPA and understand which key business processes it can genuinely transform.
Empowering business' RPA adoption
Channel partners can step into the role of a trusted, expert advisor on RPA, and be on hand to provide support on implementing new systems. Now, more than ever, customers want their partners to offer specialist skills and knowledge, which presents the perfect chance to invest in RPA. This can also open the door to selling AI platforms in the future.
The channel can also help end users identify what to automate in the first place; which processes involve low-skills, manual and repetitive tasks. These may involve many of the core, yet daily, finance functions of invoice processes. Beyond this, partners can also offer guidance on which RPA tools are best placed to modernise or integrate with existing legacy systems. No one size can fit all, and RPA in a cloud environment, for example, would facilitate a 'connected business'.
Moreover, you should find out if a customer's employees believe RPA will make a material difference to both their productivity and job satisfaction. Are they open to change? If not, develop a change management programme to encourage a new way of working.
A regular support network, too, can provide ongoing education and awareness for employees so they're engaged in the process, and motivated to use RPA to relieve the pressures within their roles. If vendors, distributors and resellers work as a collective, customers can benefit from a package that makes RPA user-friendly, relevant and worthwhile.
Finally, RPA can form the building blocks for future AI adoption, bringing channel firms an additional revenue stream. Planning and testing RPA software to see the impact it has on an organisation's operations and staff productivity is a great indicator of the benefits that AI deployment could bring in the future.
We'll definitely see the two technologies work in unison. Some RPA systems already embed AI capabilities to bolster their effectiveness and autonomy, which will develop over time as both improve, and as end users are better supported to embrace them. It means there's no better time for channel players to put their stake in the ground and lead the revolution.
Dean McGlone is director at V1
Stay up to date with the latest Channel industry news and analysis with our twice-weekly newsletter