Red Hat partners with Lockheed Martin to bring AI to military platforms
The technology has already been deployed in an unmanned aerial system which helped Lockheed Martin to more accurately classify a military target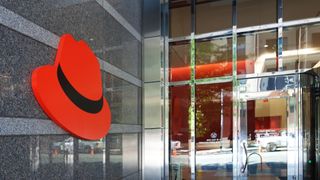 (Image credit: Shutterstock)
Red Hat and aerospace and arms firm Lockheed Martin are collaborating to bring artificial intelligence (AI) to military platforms.
Lockheed Martin is set to adopt Red Hat's technology which will help the firm support US national security missions by applying and standardising AI technologies in geographically constrained environments, the companies announced.
Lockheed Martin will use Red Hat Device Edge, which supports MicroShift, a lightweight Kubernetes orchestration product built from the edge capabilities of Red Hat OpenShift, along with an operating system built from Red Hat Enterprise Linux. The latest product also allows an organisation's architecture to evolve as its workload strategy changes.
Through Red Hat Device Edge, the tech company will equip US military platforms with advanced software that was previously too large and complex for these systems. It said it will enable small platforms to handle large AI workloads, increasing their capability in the field, and drive faster, data-backed decision-making.
"With Red Hat Device Edge Lockheed Martin is leading the infusion of cutting-edge commercial technology into military capabilities that deliver advanced solutions to our customers," said Justin Taylor, vice president of AI at Lockheed Martin.
"Unlocking these AI technologies can help national security decision-makers stay ahead of adversaries, enabling a safer and more secure world."
As an example, Lockheed Martin used Red Hat Device Edge on a Stalker unmanned aerial system (UAS) to demonstrate how AI-enhanced sensing can advance Joint All-Domain Operations. The Stalker used onboard sensors and AI to adapt in real time to a threat environment.
The Stalker flew an intelligence, surveillance and reconnaissance (ISR) mission to detect a simulated military target. Once the Stalker detected the target emitter, project engineers used Red Hat Device Edge to update the Stalker's software mid flight.
The new software – now managed on-platform by Red Hat Device Edge – enabled the Stalker to deploy updated AI-based computer vision capabilities, also known as automated target recognition capabilities.
As a result, Stalker was able to more accurately classify the military target, providing more useful ISR data and enhancing the situational awareness of the threat environment for US military decision-makers, said the companies.
Lockheed Martin plans to continue to innovate using Red Hat Device Edge and edge Kubernetes capabilities for a broader range of applications across all domains: land, sea, air, space, and cyber.
RELATED RESOURCE
Smarter AIOps
AI powered automation helping your business assure app performance
The use of AI in weapons has been long debated considering the ethical implications around the subject. In 2015, more than 1,000 AI experts and researchers called for AI weapons to be banned, stating it could kickstart a military arms race to produce autonomous weapons.
The letter stated that the stakes are high, with the new weaponry being the third revolution in warfare, after gunpowder and nuclear arms.
"The endpoint of this technology trajectory is obvious: autonomous weapons will become the Kalashnikovs of tomorrow," the letter read. "The key question for humanity today is whether to start a global AI arms race or to prevent it from starting."
This was followed in 2018 by another letter signed by more than 100 of the world's leading AI firms and research institutions pledging that AI should never be allowed to take a decision to end a human life.
The signatories also called on the government to establish a set of concrete laws against autonomous weapons.
This didn't stop MI5 and The Alan Turing Institute revealing in August 2022 that they maintain an ongoing partnership which focuses on applying AI research to confront national security challenges.
Part of the collaboration supports MI5 in keeping up-to-date with state-of-the-art approaches in AI that can be used to respond to threats against UK national security more quickly and flexibly.
Stay up to date with the latest news and analysis from the world of cloud computing with our twice-weekly newsletter
Zach Marzouk is a former ITPro, CloudPro, and ChannelPro staff writer, covering topics like security, privacy, worker rights, and startups, primarily in the Asia Pacific and the US regions. Zach joined ITPro in 2017 where he was introduced to the world of B2B technology as a junior staff writer, before he returned to Argentina in 2018, working in communications and as a copywriter. In 2021, he made his way back to ITPro as a staff writer during the pandemic, before joining the world of freelance in 2022.
Thank you for signing up to Cloud Pro. You will receive a verification email shortly.
There was a problem. Please refresh the page and try again.