Saving the NHS with tech: 5G healthcare and virtual wards
Can technology cure Britain's ailing healthcare service? Our three-part series examines how technology can lift Britain's healthcare system out of its current crisis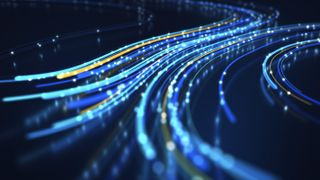 (Image credit: Getty Images)
Ask anyone in Britain and they'll tell you the National Health Service (NHS) is in an unprecedented crisis. Leaving aside any political debate over what got us here, the raw data paints an unquestionably bleak picture for the centrally-funded single-payer system.
More than seven million people are now on waiting lists for treatment, up from 4.5 million at the start of the COVID-19 pandemic and from 2.5 million in 2010. The percentage of potential cancer patients seeing a consultant within a fortnight of referral has fallen to 80%, well below the 93% target. This is just a flavor of the predicament the health service is in, despite the phenomenal efforts of doctors, nurses and others.
READ MORE
Will the NHS Federated Data Platform transform UK healthcare?
Can technology help pull it out of freefall? Not by itself, as the NHS's problems are too severe; they're too complicated for silver-bullet solutions. Previous efforts to digitally transform the NHS, too, have fallen flat.
But a combination of new technologies might alleviate some of the strain. Drones delivering blood, virtual wards, and video appointments with GPs are examples of innovations that might lift Britain's healthcare system out of crisis.
---
We've spoken to professionals, who've been implementing technological solutions to some of the NHS's biggest problems, to find out why there's still hope of resuscitating the ailing single-payer health service.
Opening virtual wards
One of the biggest problems the NHS currently faces is a shortage of beds. That's not necessarily because of an influx of patients coming in – especially when COVID-19 waves die down – but the difficulty of getting some out of beds and into appropriate aftercare settings. Hospitals are reluctant to send vulnerable patients home if there's nobody there to care for them, and the shortages in the social care sector are only exacerbating the problem.
In conversation with
Vesey has been a part of WM5G for more than eight years, and is currently the health and care sector lead. Prior to this, he was business intelligence analyst for accounts receivable team at Amazon.com between 2011 and 2014.
In conversation with
As health and care sector lead, Rooke has a track record of successful program management, business and process development in the NHS and the private sector. She's held her position since June 2022, and worked in health since 2005.
But there's a potential technological solution: virtual wards. Using a variety of remote monitoring technologies, hospitals are piloting virtual wards, in which patients are allowed to return home but continue to be supervised by NHS staff.
RELATED RESOURCE
Learn how you can create the ideal hybrid workplace to stay competitive.

DOWNLOAD FOR FREE
"That remote monitoring tech can be a range of different solutions depending on what the person was in the hospital for," says John Vesey, health and care sector lead at WM5G, an organization that helps bring the benefits of 5G to the West Midlands, a large area in the middle of England. "We've seen blood pressure cuffs or pulse oximeters," he says.
"There are different devices that you can either have directly connected back to a hospital or the individual is picking up the phone and telling them the obs [observations] that are then entered in. From our perspective, we're obviously trying to encourage it to be as automated transfer of data as possible."
Everything you need to know about Doris
That desire to keep things as simple as possible is exemplified by another device used in virtual ward trials in the West Midlands, called Doris – or the 'Data-Oriented Response Intervention System'. If you think that the initialism came before the product name, you'd be absolutely right. "We call it Doris because Doris was the name of my lunch lady at school," says Neal Forse, CTO of the IoT Solutions Group, who invented Doris and a range of other Internet of Things (IoT) products used across a range of industries.
Doris is a small atmospheric sensor given to patients who've been discharged from hospital but are being cared for in virtual wards. It's designed to help discreetly monitor the well-being of vulnerable, independent patients – for example, elderly people who live alone, have no family support, and provide their own sustenance. It's also designed to be as simple as possible. Installation takes nothing more than ripping out a small plastic tab to activate the installed battery, which can last for up to five years.
In conversation with
Neal has more than 25 years experience in data networking and video processing within the broadcast and semiconductor sectors. Prior to founding IoT Solutions Group, Forse nurtured multiple start-up businesses within Intel.

"There's no mains power, no Wi-Fi passwords to set, no SIMs to insert," says Forse. "There's nothing for the user to do."
The device measures nothing more than the ambient environmental atmosphere in the person's kitchen – the room they're most likely to visit periodically to fix meals at certain times of the day. There are no microphones that might raise privacy concerns, nor motion sensors that could be triggered by pets. The device can sit out of sight behind a box of Cornflakes, silently going about its business. "We measure the atmospheric conditions of the kitchen, and we aggregate that to the cloud, where we run an AWS instance in London," says Forse. "On that cloud instance, there's an artificial intelligence (AI) that extracts human activity per unit of time from the atmospheric patterns that it picks up. Once we know the human activity at certain points in time for that individual, we build a digital twin of behavior for that individual. If their activity deteriorates in any material way then we can raise alerts."
The data is transmitted from Doris to the AWS instance via Low Power Wide Area Networks (LPWAN). Specifically, Doris uses two carrier-grade protocols from Vodafone and O2 called Narrowband IoT (NB-IoT) and LTE CatM. Both are now ratified as part of the 5G standard and, unlike the consumer-grade 5G network you might access from a smartphone, they have near-universal coverage. "In the UK we've got 99% coverage by population and 96% by geography when you use both networks together," says Forse.
Using technology to save lives

Forse says Doris has already helped save six lives and that the devices are now being rolled out in their thousands. He says they're much more effective than solutions such as panic alarms. "There's a British Medical Journal (BMJ) white paper that says the push-button emergency buttons, that are given out like sweeties to the vulnerable independent people, are 92% ineffective for reasons that are obvious when you think about it," he says.
"They're not always around your neck when you fall over, or they're not charged, they forget to put them on charge, or they don't want to be an inconvenience. One poor lady sat on a sofa for two days not being able to move. She soiled herself and everything, but she didn't want to be a nag or a problem to anyone, so she didn't press the button. But we detected through our device that she'd been inactive and it invoked an intervention which helped her out."
It's stories like these that convince Jayne Rooke, also a health and care sector lead at WM5G, that the virtual wards they've been piloting in recent years could be a huge boost for the NHS. "Both the staff involved in that care and also the patients that have gone through it think it's phenomenal," she says.
She believes the virtual wards are ideal for frail or respiratory patients who don't need to be in hospital, but need a degree of aftercare. "The fact that they can remain in their own homes and actually still get that amazing wraparound care, whilst being in a much more comfortable environment, has made the difference. We've just completed a piece of work with a local organization and the staff are amazing and working under tremendous pressure, but what they get out of it is knowing they're doing the right thing for the patients."
Get the ITPro. daily newsletter
Receive our latest news, industry updates, featured resources and more. Sign up today to receive our FREE report on AI cyber crime & security - newly updated for 2023.
Barry Collins is an experienced IT journalist who specialises in Windows, Mac, broadband and more. He's a former editor of PC Pro magazine, and has contributed to many national newspapers, magazines and websites in a career that has spanned over 20 years.
Today, he's a contributor to Forbes.com, a columnist for PC Pro and ComputerActive, and is the co-editor of BigTechQuestion.com, a site dedicated to helping solve people's tech problems. You may have seen Barry as a tech pundit on television and radio, including BBC Newsnight, the Chris Evans Show and ITN News at Ten.
You can follow Barry on Twitter at @BazzaCollins, or email him at barry@mediabc.co.uk
Get the ITPro. daily newsletter
Receive our latest news, industry updates, featured resources and more. Sign up today to receive our FREE report on AI cyber crime & security - newly updated for 2023.
Thank you for signing up to ITPro.. You will receive a verification email shortly.
There was a problem. Please refresh the page and try again.