Saving the NHS with tech: Making blood deliveries by drone
Can technology cure Britain's ailing healthcare service? Our three-part series examines how technology can lift Britain's healthcare system out of its current crisis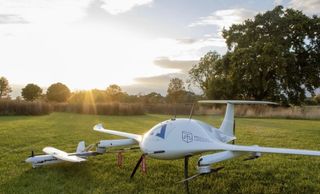 (Image credit: Medical Logistics)
Ask anyone in Britain and they'll tell you the National Health Service (NHS) is in an unprecedented crisis. Leaving aside any political debate over what got us here, the raw data paints an unquestionably bleak picture for the centrally-funded single-payer system.
More than seven million people are now on waiting lists for treatment, up from 4.5 million at the start of the COVID-19 pandemic and from 2.5 million in 2010. The percentage of potential cancer patients seeing a consultant within a fortnight of referral has fallen to 80%, well below the 93% target. This is just a flavor of the predicament the health service is in, despite the phenomenal efforts of doctors, nurses and others.
READ MORE
Will the NHS Federated Data Platform transform UK healthcare?
Can technology help pull it out of freefall? Not by itself, as the NHS's problems are too severe; they're too complicated for silver-bullet solutions. Previous efforts to digitally transform the NHS, too, have fallen flat.
But a combination of new technologies might alleviate some of the strain. Drones delivering blood, virtual wards, and video appointments with GPs are examples of innovations that might lift Britain's healthcare system out of crisis.
---
We've spoken to professionals, who've been implementing technological solutions to some of the NHS's biggest problems, to find out why there's still hope of resuscitating the ailing single-payer health service.
Meeting a four-hour delivery window
Not only do years-long waits for operations harm patients, but so do much shorter delays for lifesaving treatment. Getting blood supplies to patients in urgent need of transfusion, for example, is a logistical nightmare, not least with the amount of traffic on inner-city roads which even a bike can struggle to cut its way through. If blood isn't delivered within a four-hour window, it's unusable. With supplies already at critically low levels in the UK, nobody wants to see any precious donations go to waste.
The answer could be to transport blood where there's no traffic at all: in the skies. Alex Landowski is the founder of Medical Logistics, a company that's used to couriering medical supplies via the road network. He's been involved in a three-month pilot scheme that's seen drones fly between two NHS hospitals 15 miles apart in the middle of England.
In conversation with
Landowski co-founded Medical Logistics in 2016 to be a leading time-critical courier for medical services, and is responsible for providing guidance, oversight, and overall performance of the company. He's an ex-bike courier who delivered urgent blood in London.
The trial has involved two types of drones: one small model capable of carrying a single unit of blood, and one much larger model that's the size of a small car. It has four engines, an emergency parachute, and it's capable of carrying a standard-sized transfusion box. It's more of an unmanned aircraft than the type of drone you'd order off Amazon.
RELATED RESOURCE
Building intelligent, resilient and sustainable supply chains
Discover the exponential performance that's unlocked when you connect the processes, applications, and data that run the supply chain.

DOWNLOAD FOR FREE
The trial started running dummy payloads, then medical supplies before finally transporting blood. And it was a huge success. "We saved around 40% of time compared to transporting the same goods on the road," says Landowski, who had courier vans performing the exact same journey at the same time of day to provide a comparison. "We've been flying a drone at 400ft above ground level, day and night, and in 12 meters-per-second wind gusts."
The trial comprised 130 flights, traveling almost 2,000km, and included 30 hours of flying time where the drone was beyond visual line of sight – the first time that's ever been allowed in the UK.
Expanding the fleet of delivery drones
When asked whether he'd met any public resistance to flying car-sized drones overhead in busy areas, Landowski admitts it's a psychological barrier they're going to have to come to terms with eventually. He said the bigger drone was "less dangerous to fly in bad weather conditions because it's more sturdy and heavier".
"It's sort of like airplanes," he adds. "If people have seen a big Boeing 747, they feel like if that fails, that's it. But if you've got this two-engine Cessna flying, people say, "yeah, it's alright, if it fails, it fails". So it's a similar kind of psychological thing. We have to be careful, and take it step by step, but it's here, right? It's much safer than driving your cars around."
And talking of cars, it's much better for the environment too. The drone produces 90% fewer CO2 emissions than an electric van, and 99.8% fewer than a diesel van. That's not to mention money. Even on a fairly limited scale of ten flights per day, Landowski says he can get the costs down to a few dollars per flight – much cheaper than paying couriers to transport blood by road.
Landowski says he expects the first commercial rollout of medical drone deliveries will be sealed with private hospitals before the end of this year or the start of next, before filtering down.
"It can be done for private [hospitals] as well as the NHS. In time, it's going to be that much easier – the more infrastructure there is, the cheaper it becomes. This is our bet for the future.
"In a year, maybe two, I'll start getting some returns on the investments, while improving healthcare and making history. So it's kind of fun."
Get the ITPro. daily newsletter
Receive our latest news, industry updates, featured resources and more. Sign up today to receive our FREE report on AI cyber crime & security - newly updated for 2023.
Barry Collins is an experienced IT journalist who specialises in Windows, Mac, broadband and more. He's a former editor of PC Pro magazine, and has contributed to many national newspapers, magazines and websites in a career that has spanned over 20 years.
Today, he's a contributor to Forbes.com, a columnist for PC Pro and ComputerActive, and is the co-editor of BigTechQuestion.com, a site dedicated to helping solve people's tech problems. You may have seen Barry as a tech pundit on television and radio, including BBC Newsnight, the Chris Evans Show and ITN News at Ten.
You can follow Barry on Twitter at @BazzaCollins, or email him at barry@mediabc.co.uk
Get the ITPro. daily newsletter
Receive our latest news, industry updates, featured resources and more. Sign up today to receive our FREE report on AI cyber crime & security - newly updated for 2023.
Thank you for signing up to ITPro.. You will receive a verification email shortly.
There was a problem. Please refresh the page and try again.