What is exascale computing?
Exascale computing marks a step change in computing performance and could have benefits across a range of industries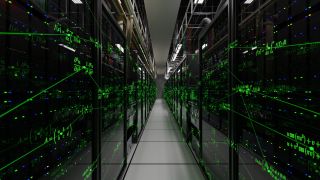 (Image credit: Getty Images)
Following the UK government's Spring Statement, many may have wondered exactly what exascale computing is and how this transformative technology will play a key role in the future of the British economy.
Exascale computing was thrust firmly into the spotlight following the government's announcement it plans to invest in building the country's first iteration of this next-generation computing technology.
While this generated a degree of excitement, alongside commitments to driving investment in quantum computing, businesses may also have been left pondering what the potential long-term benefits of exascale computing could be, and how this differs from quantum or classical computing.
What is exascale computing?
Simply put, exascale computing represents a significant milestone in computing history, providing a far higher level of performance and capability. It's expected to have a significant impact on business and the economy, according to Accenture managing director, Maynard Williams.
"Exascale computing represents a new race in science and computer engineering," he tells ITPro. "These supercomputers run on incredibly powerful hardware and reach a scale of processing power that can make sense of huge swaths of data that are too expensive or inefficient for traditional computers."
Exascale vs quantum computing: What's the difference?
Quantum computing essentially "rethinks data analysis" by using the principles of quantum mechanics to process complex tasks or calculations simultaneously, Williams explains.
Similarly, high-performance computing (HPC) systems use a huge amount of processing power that can be focused on a specific problem, but one that can be broken down into separate atomic issues to enable a problem to be solved in parallel, he adds.
"Exascale is differentiated by being a single unit, in that it can very rapidly share data across everything it is doing and process issues where there is an inter-connection between each piece of the modeling," he notes.
How powerful is exascale computing?
Exascale computing in action
The Frontier supercomputer, developed by HPE, recorded a speed of 1.1 exaFLOPs in May 2022, becoming the first exascale computer on record
The potential performance capabilities of exascale computing is, to put it lightly, baffling at first glance.
Noam Rosen, EMEA director of HPC and artificial intelligence (AI) at Lenovo tells ITPro that exascale computing is a system that can perform a quintillion calculations per second. That's 1,000,000,000,000,000,000 per second.
"Its application has been widely hailed as heralding a new age in HPC," he says. "Exascale computing drives HPC to a new level of power efficiency and performance, and enables new breakthroughs that empower future discoveries."
What are the benefits of exascale computing?
Exascale computing has the potential to unlock myriad benefits for organizations globally in years to come. This could include the energy industry, academic research, the space industry, and even areas such as motor racing, Rosen says.
"Exascale computing benefits multiple different industries, whether that involves speeding up research and development (R&D) or optimized energy efficiency, it drives game-changing results," he explains.
"The scientific community in particular will benefit from it. By using exascale technologies, scientists are granted access to modern and easy-to-use cloud services, as well as tools for high energy physics, subatomic physics, mathematics, sound mechanics, space exploration, and more.
RELATED RESOURCE
Taking a design-led, data-driven approach to experience transformation
"With these in hand, scientists will benefit from rapidly increased insight generation and innovative research, which is aiding life-changing research."
Justin Hotard, EVP for HPC, AI, and labs at HPE, echoes Rosen's comments around benefits for R&D, specifically in the scientific research space.
Hotard tells ITPro exascale computing will enable engineering breakthroughs that are core to fuelling next-generation technologies and opening doorways for innovation. In particular, the potential for exascale computing in driving AI innovation is a key area of interest.
"With exascale performance, users can build AI models 4.5 times faster and eight times larger, allowing them to train more data that can increase predictability and speed time-to-discovery," he says.
"These models will help advance techniques in areas such as natural language processing and computer vision," Hotard adds.
Hotard notes major organizations such as GE Research have already been exploring how to harness exascale computers such as the aforementioned Frontier supercomputer to "transform aviation".
"GE's researchers plan to model and simulate computational fluid dynamics, which is core to understanding aircraft system performance, at the exascale level to predict the next generation of jet engine performance, safety, and efficiency without physical testing," he explains.
"This R&D will significantly accelerate product design and development, and speed time-to-market," Hotard adds.
Analysis from McKinsey also paints a great picture of how exascale computing could deliver benefits in key industries.
In manufacturing, the consultancy suggests that exascale computing "could accelerate the adoption of additive manufacturing by allowing faster and more accurate modeling and simulation of manufacturing components".
Meanwhile, in the medical research space, the raw computing power afforded to researchers through exascale computing could support analysis of "massive data volumes and complex environmental genomes", McKinsey states.
"It can also support cancer research in analyzing patient genetics, tumor genomes, molecular simulations, and more."
Get the ITPro. daily newsletter
Receive our latest news, industry updates, featured resources and more. Sign up today to receive our FREE report on AI cyber crime & security - newly updated for 2023.
Ross Kelly is a staff writer at ITPro, ChannelPro, and CloudPro, with a keen interest in cyber security, business leadership and emerging technologies.
He graduated from Edinburgh Napier University in 2016 with a BA (Hons) in Journalism, and joined ITPro in 2022 after four years working in technology conference research.
In his spare time, Ross enjoys cycling, walking and is an avid reader of history and non-fiction.
You can contact Ross at ross.kelly@futurenet.com or on Twitter and LinkedIn.
Get the ITPro. daily newsletter
Receive our latest news, industry updates, featured resources and more. Sign up today to receive our FREE report on AI cyber crime & security - newly updated for 2023.
Thank you for signing up to ITPro.. You will receive a verification email shortly.
There was a problem. Please refresh the page and try again.