VMware doubles down on Kubernetes and hybrid cloud
The company's annual show sees updates across a number of product lines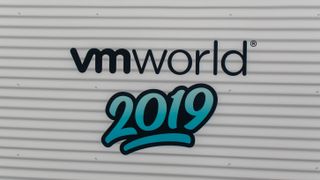 Software giant VMware has introduced a number of new products aimed at strengthening its position within hybrid cloud and Kubernetes environments, as well as a broad range of updates across its Workspace ONE portfolio.
The main focus of the announcement, which was made at the company's annual VMworld US conference in San Francisco, was a new portfolio of products dubbed VMware Tanzu designed to help organisations marry their VMware and Kubernetes deployments. As part of the announcement, the company previewed two of the products that will come under the Tanzu umbrella: Tanzu Mission Control and Project Pacific.
Acting as a single point of control for all an organisation's Kubernetes clusters, Tanzu Mission Control allows IT teams to manage them across public clouds, managed services, vSphere and more, using the same tools that they use to manage their virtual machines (VMs). It will enable one-click policy management for operators and will feature broad integrations with the rest of VMware's portfolio to provide tools such as visibility and health monitoring.
The other major announcement was Project Pacific, a new product which will be part of Tanzu when it's officially launched and which VMware global field and industry CTO Chris Wolf described as "the most significant innovation that's come out of our VMware vSphere product line in the last 10 years".
In essence, Project Pacific is an effort to re-architect VMware's vSphere management software into a Kubernetes-native platform where organisations can manage both VMs and Kubernetes containers via one control plane. Pacific will also introduce a container runtime to the hypervisor, as well as ESXi native pods designed to blend the best elements of VMs and Kubernetes pods.
"Today, I'm excited to announce Project Pacific: an effort to embed Kubernetes directly into vSphere," VMware CEO Pat Gelsinger told attendees. "Project Pacific unites vSphere and Kubernetes, and thanks to developers and operators, Project Pacific establishes vSphere as the platform for modern applications."
"We're building Kubernetes deep into vSphere, and along the way, we're actually making vSphere a much better place to run Kubernetes," added Joe Beda, Kubernetes co-creator and VMware principal engineer. "Operations people have one platform where they can manage all of their resources, including virtual machine and Kubernetes resources. And then application teams will get a self service experience built on proven Kubernetes API apps."
In fact, Beda claimed workloads running on ESXI with Project Pacific were capable of running up to 8% faster than on bare metal servers.
While Tanzu and Project Pacific are currently only available as technical previews, with no firm commercial release date in sight, VMware advised customers wanting to prepare themselves for the new capabilities to start by adopting PKS, its pre-existing Kubernetes deployment tool. Beda stated that PKS is acting as the on-ramp for Project Pacific, and Wolf noted that "this is your glimpse of the future of PKS".
Hybrid clouds and healthy clouds
Another major announcement made at the show is the launch of VMware's CloudHealth Hybrid. Based on last year's acquisition of CloudHealth Technologies, the new tool expands VMware's CloudHealth monitoring product to cover not just public cloud deployments but also on-prem and hybrid VMware deployments. Customers will be able to set resource usage policies which trigger automatic alerts when violated, as well as generating robust TCO reports for their full cloud environment. The company's Wavefront observability tool has seen updates too, with aesthetic tweaks, new alert-driven automations and improved Kubernetes monitoring.
The launch of CloudHealth Hybrid is one of a number of announcements and updates around VMware's hybrid cloud strategy. The company has unveiled vRealize Operations 8.0, which focuses in large part on applying machine learning algorithms and real-time analytics, in order to detect issues and optimise performance in real-time with minimal human intervention. On top of this, the company is previewing a new cloud-based version of this software, vRealize Operations Cloud, for its VMware Cloud on AWS customers. Capacity and cost management will also be a major focus, with new planning and optimisation tools across a range of different environments.
Complementary to this is the announcement of another tech preview, codenamed "Project Magna". This is another effort to use AI and machine learning to drive data centre automation, aimed specifically at vSAN. Magna is a self-managing SaaS product which uses real-time data to optimise the read and/or write performance of customers' vSAN deployments.
In addition to this, VMware's vRealize Automation 8.0 software also brings more improved governance, cloud-agnostic blueprints for service modelling and integrations with a number of DevOps tools. As with vRealize Operations, a SaaS-based version of this software is also being previewed, and the on-premise vRealise Suite 2019 has also been announced, bringing its core components up to the latest version. All of the new vRealise tools, as well as CloudHealth Hybrid, will be available by the end of VMware's third financial quarter, which falls on 1 November this year. As with Project Pacific, no firm timeline has been given for the availability of Project Magna.
Don't forget the data centre
VMware Cloud on Dell EMC, the company's data centre as a service offering co-engineered with its parent company, has also gone into general availability. Sadly though, this is only for US customers there's no firm date for availability in other territories as yet. The company did, however, announce that Equinix will be operating as a hosting partner for the service, allowing customers to take advantage of it through their facilities.
Public cloud was not ignored, however. Following its initial reveal by Gelsinger, Michael Dell and Microsoft CEO Satya Nadella at Dell Technologies World earlier in the year, VMware also announced the availability of native VMware support on Microsoft Azure. The service is available in Western Europe and the US as of today, with territories in Australia and South America following by the end of 2019 and additional regions including northern Europe by the end of Q1 next year.
AWS' status as a VMware "preferred partner" was in little doubt, and the company has announced a raft of new technologies to support customers deploying on Amazon's cloud. These include new tools courtesy of an expanded partnership with Nvidia. The two companies have worked together to bring Nvidia's GPU virtualisation technology to VMware's AWS offering, as well as to its core vSphere product. Designed to power AI and data science workloads, the new tools will allow IT to manage these workloads using the same tools as their other applications, as well as integrating them with other VMware and AWS products.
In addition, the company announced that as of today, VMware Cloud on AWS customers will be able to take advantage of a new Cloud Migration tool. This tool, as well as other cloud workflows, is expected to come to VMware Cloud on Dell EMC and VMware Cloud on AWS Outposts in the future. A disaster recovery as a service offering, built with Dell EMC and AWS S3, will also be introduced for VMware Cloud on AWS by the end of October. These customers can also now take advantage of VMware's Bitnami-powered Cloud Marketplace, as can the company's Cloud Provider Partners.
Moving onto VMware's desktop virtualisation business, the conference has seen a number of product updates and new features announced for Workspace ONE. The most attention-grabbing of these is a new digital assistant, powered by IBM Watson and designed to speed up the onboarding process for new employees, as well as assist with simple level one support tasks like wireless troubleshooting or ticket creation.
It also unveiled a new Workspace ONE Intelligence service called Digital Employee Experience Management, designed to help IT automatically detect and resolve problems with employee endpoints through real-time data analysis, which is currently in preview. In order to aid with remediation efforts, Workspace ONE Assist (previously called Workspace ONE Advanced Remote Management) can now support Windows and macOS devices, in addition to Android, iOS, and Windows CE.
In addition to this, VMware is increasing Workspace ONE's device support across the board; support for iOS 13 and iPadOS support is planned for later in the Autumn, augmented by additional management capabilities for Apple devices, Google Android and ChromeOS devices will benefit from new monitoring and migration tools, and admins can now use a new AirLift migration tool to onboard Windows 10 devices with SCCM collections and GPOs intact.
Finally, VMware Horizon also benefits from new capabilities. VMware Horizon Services for Multi-Cloud brings automatic management tools which allow employees to log into the most suitable virtual workspace, whether it's hosted in an on-premise or cloud-based environment. New management services will also enable the use of one-to-many package deployment tools, and will surface Horizon data for the purposes of performance management. For customers that are still using a pre-existing perpetual license for Horizon 7, VMware has now introduced the VMware Subscription Upgrade Program for Horizon, which the company promises will allow customers to upgrade to Horizon Universal Licenses "at a price reflecting the original value".
Get the ITPro. daily newsletter
Receive our latest news, industry updates, featured resources and more. Sign up today to receive our FREE report on AI cyber crime & security - newly updated for 2023.
Adam Shepherd has been a technology journalist since 2015, covering everything from cloud storage and security, to smartphones and servers. Over the course of his career, he's seen the spread of 5G, the growing ubiquity of wireless devices, and the start of the connected revolution. He's also been to more trade shows and technology conferences than he cares to count.
Adam is an avid follower of the latest hardware innovations, and he is never happier than when tinkering with complex network configurations, or exploring a new Linux distro. He was also previously a co-host on the ITPro Podcast, where he was often found ranting about his love of strange gadgets, his disdain for Windows Mobile, and everything in between.
You can find Adam tweeting about enterprise technology (or more often bad jokes) @AdamShepherUK.