Dell defends green IT strategy
The PC maker defends its green credentials, arguing that it is responding to environmental concerns about technology, despite criticism from groups including Greenpeace.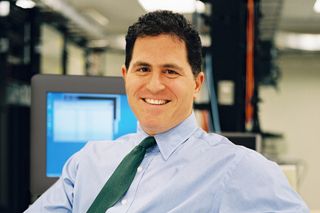 Dell, the US computer maker, is claiming it has achieved its lofty environmental targets ahead of schedule.
During a roundtable event in London today the world's number two PC company explained that it set itself the challenge of becoming carbon neutral by the end of this year, but reached this milestone some 30 days ago.
"I just met this morning with a group of government chief information officers. The UK government has embraced this goal of carbon neutrality by 2012 and they're looking to Dell to say You've already gone carbon neutral, how have you done that? Tell us about virtualisation,'" said Dell's co-founder and chief executive Michael Dell.
"There's an easy part which is we've saved our customers $2.8 billion and that gets the attention of a chief information officer. The underlying interestedness is growing around the world at a tremendous rate. We see customers here in the developed world, we see customers in China that are interested in this. When we can introduce a product, such as a new blade server that uses 25 per cent less energy than one from a competitor but that is also a superior product, what's not to like?"
Despite the current credit crunch and talk of customers buying less hardware from the company as a result, Dell argued that enterprise customers will be willing to pay a bit more to go green if it will save them money in the longer term.
"Let's say I told you I was going to sell you a product that would save you $300 over the three years that you were going to use it but it would cost you $30 more. Would you pay $30 more to save $300 over three years?" he added.
"The thing I've seen change dramatically is that a year ago when you went to a chief information officer and said Hey, we've got these new products that save energy,' a lot of them would react by saying Well the energy's not in my budget, it's not my problem.' Energy costs have gone up so much and the issue is now getting so much attention that they're being held accountable for the energy consumption. Companies are seeing energy cost become a big factor in their spending. And also, they're being held accountable from a social standpoint."
However, Dell was quick to defend his company when IT PRO's sister title PC Pro brought up the subject of a recent report from environmental activist group Greenpeace.
The report, The Greener Electronics Guide gave Dell an environmental score of 4.7 out of 10, side-by-side with HP and Toshiba and better than Apple, Microsoft and Nintendo in terms of the greenliness' of its products.
"I haven't read their latest report. I'm sure what you would see if you looked at a variety of inputs and organisations is that we do stand above others on a broad measure of these sustainability indexes," he said.
"What a number of firms have done in Japan is they've introduced one model that has a very, very green footprint and it might be something that is one per cent of their sales. That's a nice thing to do as a test but doesn't really change the equation in terms of the volumes. Greenwashing is what it's usually called."
Get the ITPro. daily newsletter
Receive our latest news, industry updates, featured resources and more. Sign up today to receive our FREE report on AI cyber crime & security - newly updated for 2023.
Maggie has been a journalist since 1999, starting her career as an editorial assistant on then-weekly magazine Computing, before working her way up to senior reporter level. In 2006, just weeks before ITPro was launched, Maggie joined Dennis Publishing as a reporter. Having worked her way up to editor of ITPro, she was appointed group editor of CloudPro and ITPro in April 2012. She became the editorial director and took responsibility for ChannelPro, in 2016.
Her areas of particular interest, aside from cloud, include management and C-level issues, the business value of technology, green and environmental issues and careers to name but a few.
Get the ITPro. daily newsletter
Receive our latest news, industry updates, featured resources and more. Sign up today to receive our FREE report on AI cyber crime & security - newly updated for 2023.
Thank you for signing up to ITPro.. You will receive a verification email shortly.
There was a problem. Please refresh the page and try again.