Why now is the perfect time to start a side hustle
The pandemic has pushed many to re-evaluate their working lives, swelling a sector that's now worth £72 billion for the UK economy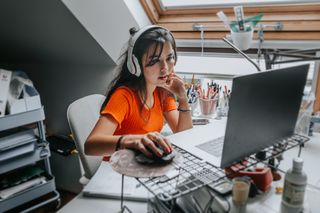 (Image credit: Getty Images)
This article originally appeared in issue 25 of IT Pro 20/20, available here. To sign up to receive each new issue in your inbox, click here
Side hustles, freelancing, and portfolio careers have, for many workers, become a key aspect in their professional lives. The pandemic changed the definition of work from somewhere you visit into something you do. It also illustrated how a more flexible approach support wellbeing, mental health, and, for a growing number, a chance to realise a longstanding ambition to start a business.
Creating a bespoke working life is no longer a pipe dream, which is why so many people are pursuing a side hustle. Before this phrase was coined, workers ran small businesses and other projects in the evenings and weekends alongside their day jobs. Now, many more who've experienced the benefits of a more fluid working life are devising their own exciting ventures.
Chasing your passion
"This shift is now being driven largely by the talent pool themselves and is something employers need to get on board with to mitigate the effects of the 'Great Resignation'," head of talent and organisation, EMA at Infosys, Mick Burn, tells IT Pro. "In addition, we're witnessing a whole generation of side-hustlers. Gen Z doesn't have the same loyalty and undivided commitment to the nine-to-five as their predecessors. Freelancing, therefore, provides autonomy and flexibility that's extremely attractive to younger workers."
Entrepreneurship has always been in rude health across the UK. Giving up a full-time job to pursue that dream is, however, not a practical proposition. Then COVID-19 came along and presented many with the opportunity to take tangible steps towards becoming their own boss – albeit on a part-time basis. Indeed, two in three (64%) want to run their own business in the future, FreeAgent research suggests, with a 10% year-on-year rise fuelled by changing working patterns and the subsequent opportunities. COVID-19 has also triggered 27% to move their plans forward.
"Across the global workforce, tech and IT side hustles have been common due to the remote nature of the industry and the increase in demand for these skills," says Debbie Irish, head of HR for HP, UK and Ireland. "Job security has played a role, too, with two in five office workers saying they are motivated to pursue their passion as their career because the pandemic has changed how they feel about job security, with millennials being the most motivated."
Accessing the tools at your disposal
The pandemic has been the ideal time to launch a side hustle. Specialist insurance broker Caunce O'Hara found just under a quarter (23%) of those questioned reported setting up their own side hustle in the past 12 months. A further 40% reported their side hustle is between one and five years old. Over half of respondents (51%), meanwhile, earned up to £1,000 a month from their side hustle. Compounding the economic benefits, analysis by Henley Business School estimates side hustles bring £72 billion to the UK economy, with as many as 25% of adults pursuing one today.
The IT and technology sector has proven itself to be the ideal industry for side hustles. Bionic examined global entrepreneurship and discovered that IT and technology was the most popular industry, playing host to 20% of those included in Forbes' 30 Under 30. The capacity to create a side hustle has also become more of a reality as digital tools have matured. The mass uptake of remote working, for instance, has shown millions how technology can be used to run a successful side hustle, while hosted services have also expanded and become more affordable.
RELATED RESOURCE
Moving forward in a work from anywhere world
A gorilla guide
Using existing skills can become the basis for a side hustle, with coding, digital design, content creation and tech support all forming the basis of successful ventures. Some even use their knowledge to teach others by building online courses or writing eBooks. The tech stack many side hustles need – not just within the tech sector – are now integrated, too. Collaboration suites, fast development, and deployment of online retail spaces are accessible, with the ability to connect with international suppliers and manage entire businesses from a notebook or tablet, too, a reality. Connecting side hustles with buyers is also possible with marketplace platforms such as Fiverr and Upwork.
Newcomers, however, need to take care when choosing what kind of IT business to start, warns Dr Rita Fontinha, associate professor of international business and strategy at Henley Business School. "To avoid moonlighting, we need to ask questions like what is the nature of the services provided in the second job? Who are the main clients or customers likely to be? When and where is the secondary work being conducted?" she says. "It's also important to ask whether any of the main employer's property is being used. This would include material such as hardware, but also, more seriously, data containing confidential information or intellectual property."
Your portfolio career
Employers have often lamented the challenge of finding the right people for their vacancies, with the pandemic also driving a shift in the worker-employee relationship. Indeed, according to a survey from productivity platform ClickUp, under-45s are driving a demand for a four-day working week. It's especially true for 35-44 year-olds, with almost a fifth (19%) preparing to quit their job to find a role that offers flexible working, while 16% plan to request a four-day week in 2022; the fifth day will be used to pursue their side hustle. Although the benefits of this model are still under examination, an example of a firm that's established a four-day week is Atom Bank, with CEO Mark Mullen stating this was vital to retain staff and protect their wellbeing.
"With so much uncertainty over the last 18 months, it's understandable that so many employees have looked for new ways to supplement their income," says Lee Biggins, CEO and founder of CV-Library. "What's more surprising is that so many businesses have been supportive of these endeavours. With staff shortages plaguing the UK job market, it may seem counter-intuitive to encourage employees to strike out on their own. It could be argued, however, that this is actually a clever approach to take."
The pandemic changed the definition of work while also changing attitudes about work-life balance and wellbeing. Meanwhile, in the tech space, businesses need specific skills and generally understand hiring a full-time employee isn't always a practical proposition. Offering a flexible or part-time position that could allow employees to pursue a venture of their own, therefore, could be highly attractive. For workers, likewise, equipped with the freedom and the tools, it's the ideal time to pursue a side hustle.
Get the ITPro. daily newsletter
Receive our latest news, industry updates, featured resources and more. Sign up today to receive our FREE report on AI cyber crime & security - newly updated for 2023.
David Howell is a freelance writer, journalist, broadcaster and content creator helping enterprises communicate.
Focussing on business and technology, he has a particular interest in how enterprises are using technology to connect with their customers using AI, VR and mobile innovation.
His work over the past 30 years has appeared in the national press and a diverse range of business and technology publications. You can follow David on LinkedIn.