Accenture ploughs $3 billion into cloud migration support group
The new multi-service group will comprise 70,000 cloud professionals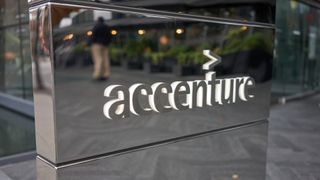 (Image credit: Shutterstock)
Accenture has announced the launch of Accenture Cloud First, a $3 billion (£2.3bn) investment which will aim to help clients accelerate their digital transformation projects and become "cloud-first" businesses.
The new multi-service group will comprise 70,000 cloud professionals, combining Accenture's cloud expertise and industry insights with its data and Applied Intelligence capabilities.
The goal is to provide its customers with cloud-focused upskilling over the next three years, the company said on Thursday.
The venture will be led by Karthik Narain, who is set to join Accenture's Global Management Committee on 1 October. Narain previously led Technology services for the company's Communications, Media, and High Tech industry segments. He joined Accenture in 2015 after a decade as VP at HCL Technologies.
The launch follows a steady rise in demand for cloud-based services during the pandemic, and a steep decline in the use of physical offices and customer-facing stores.
"COVID-19 has created a new inflection point that requires every company to dramatically accelerate the move to the cloud as a foundation for digital transformation to build the resilience, new experiences and products, trust, speed and structural cost reduction that the ongoing health, economic and societal crisis demands — and that a better future for all requires," said Accenture CEO Julie Sweet.
"Accenture Cloud First and our substantial investment demonstrate our commitment to delivering greater value to our clients when they need it most. Digital transformation requires cloud at scale, and post-COVID leadership requires that every business become a 'cloud-first' business," she added.
The company said that the $3 billion investment will be used to create industry roadmaps and data models, and build AI-based architectures that customers can build on.
The hope is that, by 2023, the project will be providing customers with cloud tools, assets, and automation software to help drive innovation, as well as cutting-edge research into the latest cloud technologies, such as edge computing.
Paul Daugherty, Accenture Technology group chief executive, described the cloud as "the most disruptive and value-creating technology of our time" and a "foundation for the digital transformation".
"With most businesses currently at only about 20% in the cloud, moving to 80% or more rapidly and cost effectively is a massive change that requires a bold new model," said Daugherty. "Accenture Cloud First, along with our $3 billion investment and our market-leading Software as a Service capabilities in Intelligent Platform Services, ensures that we provide our clients with value, speed and innovation in every part of their cloud journey."
The announcement comes just days after Accenture launched the latest version of its myWizard Intelligent Automation Platform, which allows organisations to create, implement and measure enterprise-wide automation strategies and reimagine their information technology systems for efficiency and performance.
A daily dose of IT news, reviews, features and insights, straight to your inbox!
A daily dose of IT news, reviews, features and insights, straight to your inbox!
Thank you for signing up to ITPro. You will receive a verification email shortly.
There was a problem. Please refresh the page and try again.