The most significant challenges facing SMBs post-pandemic
We examine the obstacles small and medium businesses face in a post-pandemic world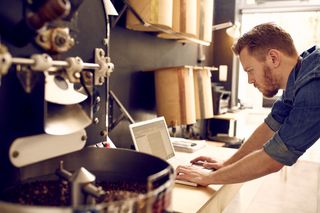 (Image credit: Shutterstock)
Small and medium-sized organisations (those with fewer than 250 employees) account for 95% of business in the UK and contribute around 50% of the UK economy. So when COVID-19 hit, the impact on these small-scale companies, and the UK economy, was serious.
SMBs were catapulted into financial limbo, with the government forcing many to close during lockdown to stem the spread of the virus, while others shuttered their doors due to lack of customer demand. Sadly, as a result, nearly a third of these enterprises have closed their doors for good.
Now as we begin to move out of lockdown restrictions, supported by the success of the vaccine rollout, we look at five obstacles facing small and medium businesses that are still prevalent.
Digitisation
Despite the initial shock, evolution to survive was the nature of the game. This meant that some SMBs not only survived the disruption, but also thrived as a result. Those that had the financial ability and operational flexibility adopted new ways of working and embraced digitisation, investing in automation and shifting to remote working.
Most often, those that made the most of the opportunity to digitally transform had previous knowledge of digital capabilities and, therefore, the confidence and capability to continue.
Others, however, were not as agile and lacked the cash flow to adapt; even when some of those SMBs attempted digitisation, they felt left behind due to a lack of web skills and IT resources to support the transition.
As we look ahead to a post-pandemic world and "new normal", for some SMBs digitisation continues to prove a significant challenge. Some businesses simply can't go online because of the nature of their consumer interactions that occur in the same location e.g. hairdressers or groomers. Even the concept of going cashless - with supermarkets phasing out cash payments, accelerated by the pandemic - could impact negatively on these trades.
Even when smaller enterprises have taken the plunge and introduced social media to their marcomms, the knowledge required to build an online brand is significant and for some, the companies just can't unlock social's true potential.
RELATED RESOURCE
Business in the new economy landscape
How we coped with 2020 and looking ahead to a brighter 2021
But not having an online presence, whether social media or an e-commerce platform, could be the difference between staying open and going under. If anything is to be learned from the impact of COVID-19, taking inspiration from those organisations that have thrived by doing things differently - changing their business model and investing in technology - could set others apart from the competition and ensure their future.
Cash Flow
Two-thirds of SMBs looking to reopen - if they haven't already - but there are some that simply can't afford to. A lack of profit from the last 12 months has meant cash flow is limited, and with other businesses and suppliers potentially in the same position, late payments have contributed to the cash flow restrictions.
Some SMBs also have government loans to pay back, and despite many expected to bounce back and repay their debts without difficulties, other SMBs don't feel they'd generate enough additional income to make reopening worthwhile.
The way consumers shop today, also as a result of the pandemic, means for some customers, those retailers with an online presence are their store of choice. This has only made it harder for SMBs who've lost loyal customers to these businesses, where it would take significant time and investment to build up a client base again and win back previously loyal clientele.
A lack of funds also limits the opportunity to plan, and in not knowing what may lay ahead, small and medium businesses may struggle. However, if these enterprises have some cash aside, planning ahead and buying additional supplies or products may cost upfront initially, but could help their future survival.
Supply chain
Another contributing factor still affecting SMBs today, and another reason why some will delay getting back up and running again, are their supply chains.
With all organisations affected by COVID, some products aren't available as a result of limited access to materials, or there are longer turnaround times from manufacturers. Shipping costs have also increased with the global stock shortages and nation's governments affecting suppliers with imposed restrictions.
Even the ability to network with suppliers continues to be limited, with social distancing measures still in place. Technology advancements can help with the use of video conferencing, but this cuts down the personal touch that is such an advantage for smaller organisations.
There is a definite need for SMBs to increase communications with suppliers over the coming months and factor in whether they have what they need. Considering alternative suppliers to fill the gaps, and being honest with customers to manage their expectations, can help.
Staffing
In a bid to continue operations and retain some profitability, SMBs have also either reduced staffing levels or moved to remote working models with their investment in cloud based technologies.
Remote working has benefited many organisations, enabling continuity of work, but without the budgets of larger corporations, and if the required security isn't already in place, the risk of cyber attacks and malware is increased in SMBs; especially if employees are using personal IT equipment.
For those enterprises looking ahead, some may not be able to bring employees back if business hasn't grown. In other cases, having let staff go during the first lockdowns, former employees have moved on to other roles and they're not returning.
It is difficult enough for SMBs to attract talent, even without the pandemic, as often they can't afford to offer benefits and other perks to prevent loss of employees to larger competitors.
To counter this in a cost-effective way, creating flexible working environments will attract staff back, and with the more direct relationship that SMBs have the advantage of - i.e. fewer management layers - smaller businesses can check in regularly to ensure staff are ok and help them feel valued, resulting in greater employee motivation and productivity.
Work/life balance
Not only do some SMB owners have businesses to run, but they can also have dependents at home, which is a continuing issue regardless of COVID.
In having both business and personal obligations, there's no clear room to grow and with working longer hours (in a lot of instances, at home) to keep things going - blurring the lines of work and home life - the stresses facing SMBs are significant and have a negative impact on mental health.
It is vital for these business owners to ensure they're investing in, not only their staff, as mentioned above, but in themselves, and ultimately their business.
Moving ahead beyond the pandemic, despite those issues that will always affect SMBs, there is hope. Having an open, supportive work culture will overcome staffing issues, and being small enough to ask customers what they want and communicate on a personal level will offer further ways to adapt.
Ultimately, in order to safeguard SMBs as much as possible, they need to use what they've learned during the pandemic, putting in place what they need, to be better prepared for the future and ensure they remain operational.
Get the ITPro. daily newsletter
Receive our latest news, industry updates, featured resources and more. Sign up today to receive our FREE report on AI cyber crime & security - newly updated for 2023.
Sarah joined ITPro in 2021, moving into all things tech after previously copywriting in marketing roles for leading global brands, including McLaren, Virgin Atlantic and Tesco, writing for email, web, print, and social. Sarah now leads the multi-channel marketing activity for client whitepaper campaigns across IT Pro, Cloud Pro, and Channel Pro, delivering organic B2B lead generation for Dell, AWS, & IBM amongst others, reinforcing brand engagement and brand affinity. You can contact Sarah directly at sarah.thomson@futurenet.com.