Remote workers suffered most mental distress during pandemic, report claims
The report comes as Boris Johnson prepares to lift lockdown restrictions, but there's no clear line on working from home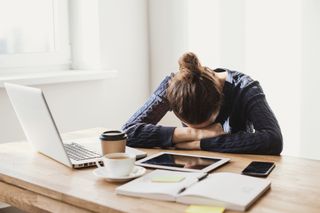 (Image credit: Shutterstock)
Working from home during the pandemic has led to increased levels of mental distress and isolation, according to new research.
The National Centre for Social Research (NatCen) found that those who lived alone and worked from home suffered the most, but also suggested that people that lived with others experienced similar feelings of loneliness.
The findings come from analysis of 8,675 interviews conducted by NatCen before the pandemic, and again in May, July and November of 2020. It's important to note that only people in work were questioned and the comparison is between those that worked from home and those that didn't, so there is no data for people who were furloughed or lost their jobs.
The study also found that working from home protected people from financial difficulties, whereas those that didn't have the option to do their jobs remotely were more likely to report struggles with money. However, those living alone felt more social isolation regardless of their work arrangements, which suggests there is no single remedy to address these issues, according to NatCen.
A lack of interaction between colleagues and a blurring of the lines of work and life were cited as the main reasons in the study, with a lack of new experiences and face-to-face interactions thought to be contributing to increased mental distress for home workers.
"More of us than ever now work from home and use technology to replace many aspects of work previously done in person, but this cannot fully replicate the working environment for everyone," said Isabel Taylor, research director at NatCen.
RELATED RESOURCE
Empowering the dynamic worker
How CIOs and IT teams can support a distributed workforce
"As the government considers current working guidance, individuals, employers and government departments should be aware of the impact working from home is likely having on people's mental health."
On Monday, the prime minister, Boris Johnson is set to announce that the UK is moving fully away from lockdown restrictions, which is thought to include the end of social distancing measures and requirements to wear a mask. However, it isn't clear what the government's guidance on working from home will be as there appears to be conflicting messages coming from Whitehall.
A daily dose of IT news, reviews, features and insights, straight to your inbox!
Bobby Hellard is IT Pro's reviews editor and has worked on Cloud Pro and Channel Pro since 2018.
In his time at IT Pro, Bobby has covered stories for all the major technology companies, such as Apple, Microsoft, Amazon and Facebook, and regularly attends industry-leading events such as AWS Re:Invent and Google Cloud Next.
Bobby mainly covers hardware reviews, but you will also recognise him as the face of many of our video reviews of laptops and smartphones.
He has been a journalist for ten years, originally covering sports, before moving into business technology with IT Pro. He has bylines in The Independent, Vice and The Business Briefing.
Contact him at bobby.hellard@futurenet.com or find him on Twitter: @bobbyhellard
A daily dose of IT news, reviews, features and insights, straight to your inbox!
Thank you for signing up to ITPro. You will receive a verification email shortly.
There was a problem. Please refresh the page and try again.