Five cloud-based tools your business needs
Building a digital workspace can be made easy with the right set of cloud-based tools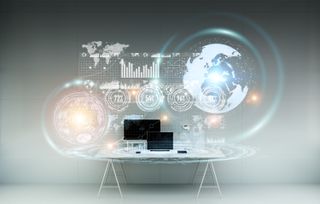 Cloud-based subscription services are the key components of the modern business' toolbox, embodying the screwdrivers and spanners necessary to construct a digital workspace. As such, they should be viewed as central to any digital transformation strategy.
Microsoft's cloud offering Office 365 hit 200 million users in FY20 Q1, dwarfing it's main competitor G-Suite. However, while Google's cloud suite is but a drop in Office 365's ocean, G-Suite is rapidly snapping up market share, and not necessarily to Office 365's detriment.
That's because the market's growth is incremental. Year upon year, demand for cloud-based subscription services intensifies. In the past decade, AWS has emerged as a rival to Microsoft's throne, while other applications have firmly embedded themselves within the enterprise, such as Salesforce, evidencing a trend which is showing no signs of slowing.
RELATED RESOURCE
The essential guide to cloud-based backup and disaster recovery
Support business continuity by building a holistic emergency plan
Building a future workspace begins with the deployment of cloud-based services, each offering a particular tool or set of tools which support a workflow. The best are those which are easily integrated with existing and additional applications; better still are single cloud-based, enterprise-wide services that provide a single-pane-of-glass approach, delivering a unified experience for both workers and customers alike.
Read on to learn which cloud-based tools are needed to deliver an optimised digital workspace for your business.
Workflow hub
Centralised collaboration tools are quickly becoming the heart of the digital workplace, providing a platform which often acts as the focal point of otherwise disparate cloud applications; all bridges - should they stem from email, analytics, or storage - lead to the workflow hub.
For example, Microsoft Teams is able to host the Office 365 toolset, facilitating a more collaborative, productive, and efficient way for users, teams and businesses to work; instead of jumping between apps, tools are accessed from one simple-to-operate platform, easing usability and boosting productivity.
Microsoft Teams is jockeying for market share with Slack. Though Slack outdates Teams, recently the scales have tipped in Teams' favour. Workplace from Facebook is the new kid on the block, offering similar file-sharing, storage, and communication functionalities.
Storage
The aforementioned workflow hub equips users with file-sharing abilities through its instant communication channels, however often - as is the case with Slack, for example - shared files are downloaded straight onto servers.
Having a cloud-based file hosting tool allows employees to share documents and collaborate online, with files being downloaded securely and directly to the cloud.
Microsoft offers OneDrive as a core element of Office 365, a tool able to securely store files that can then be accessed by remote workers, regardless of their physical location. Documents uploaded to OneDrive can then be distributed by SharePoint, Office 365's document management and storage system that integrates smoothly with the wider Microsoft Office suite.
Google does things a little differently. Sheets instead of Excel, Docs replace Word, and files are uploaded to Google Drive. Interestingly enough, Google has announced plans to add Microsoft Office file format support to its range of apps, adding an element of versatility to suite of collaboration tools.
Email
Email is obviously nothing new, but the advantages of embedding your system within a cloud application can transform a lethargic communication medium into a management tool, one that includes helpful additions such as a calendar, a task manager, and a web browser.
Hosting email systems in the cloud also brings additional backup and security features, while also bringing about a reduction in maintenance costs through rendering physical servers obsolete.
RELATED RESOURCE
The essential guide to cloud-based backup and disaster recovery
Support business continuity by building a holistic emergency plan
Business intelligence
Cloud-based tools don't only allow employees to make better, faster decisions by smoothing communication channels. Business intelligence/analytics tools can be employed which use an organisation's data to help employees make informed decisions.
Microsoft's Power BI, part of the Office 365 suite, transforms data into a more visual form, making distinct analysis easy, while additionally allowing users to create bespoke reports and dashboards.
Cloud-based business intelligence is quickly becoming an integral part of digital transformation strategies, with an all-time high of 48% of organisations stating cloud business intelligence and analytics was important to their operations in 2019.
Reporting tools
The digital transformation process is overseeing migration en masse of applications to the cloud, and there's no denying that this surfaces problems, cementing the role of reporting tools within the enterprise.
Reporting tools such as JIRA provide a centralised dashboard which employees navigate to post and resolve tickets, typically related to internal IT infrastructural issues. Whilst cloud versions of popular reporting tools may come with caveats such as limited capability, the general advantages of cloud-based applications apply, from lower costs resulting from cheaper and easier maintenance caused by not having to deal with servers, to backup solutions being easily implemented.
Get the ITPro. daily newsletter
Receive our latest news, industry updates, featured resources and more. Sign up today to receive our FREE report on AI cyber crime & security - newly updated for 2023.