Dell EMC starts to sell VMware through channel partners
Pilot scheme will see Dell EMC and Dell Technologies resell VMware products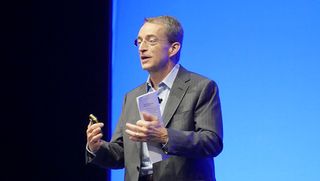 (Image credit: Jane McCallion / Dennis Publishing)
Dell EMC is to start distributing VMware software through its channel programme from today, allowing certain partners to resell VMware licenses and enterprise license agreements to customers.
The company is initially running the project as a pilot programme with Titanium and Titanium Black partners, starting in the UK and France as well as four other global markets. The programme is set to expand to more regions by the end of the year.
"Feedback from our partners, specifically those that are partners with VMware and with Dell EMC, is that they would like a simpler and more seamless way to deal with Dell EMC, specifically when it comes to VMware," Dell EMC's senior vice president of channel for EMEA, Michael Collins, told Channel Pro.
The new capability is designed to make it easier for partners that are working with customers on projects that employ both Dell EMC infrastructure and VMware services.
"Partners will have a choice," he said. "It's not Dell or another distributor; it's Dell EMC when they choose to, and their traditional distributors when they choose to."
"Obviously, we have been in dialogue with our distributors for some time now," Collins said. "It is true that this is not the most exciting announcement for the distributors, but at the same time I'll tell you it's true that more exciting to them is the future opportunity with Dell EMC."
Alongside Dell EMC Titanium and Titanium Black partners, Dell Technologies Tier One partners and VMWare authorised resellers are also able to resell VMware services. However, only VMware's partners will be able to take advantage of their existing VMware partner programme benefits.
Dell EMC combined each firm's independent channel programmes back in March, following Dell's takeover of EMC.
Stay up to date with the latest Channel industry news and analysis with our twice-weekly newsletter
Adam Shepherd has been a technology journalist since 2015, covering everything from cloud storage and security, to smartphones and servers. Over the course of his career, he's seen the spread of 5G, the growing ubiquity of wireless devices, and the start of the connected revolution. He's also been to more trade shows and technology conferences than he cares to count.
As reviews and community editor, he's responsible for leading IT Pro's wide-ranging product coverage, and is an avid follower of the latest hardware innovations. He's never happier than when tinkering with complex network configurations, or exploring a new Linux distro.
In addition to managing the IT Pro Panel and working with the community of IT leaders that make it up, he co-hosts the IT Pro Podcast, where you can hear him ranting about his love of strange gadgets, his disdain for Windows Mobile, and everything in between.
You can find Adam tweeting about enterprise technology (or more often bad jokes) @AdamShepherUK, or you can email him at adam.shepherd@futurenet.com.
Stay up to date with the latest Channel industry news and analysis with our twice-weekly newsletter
Thank you for signing up to Channel Pro. You will receive a verification email shortly.
There was a problem. Please refresh the page and try again.