Misco to pay unsecured creditors just 2.7% of their £22m
But channel company confirms employees will get almost everything they're owed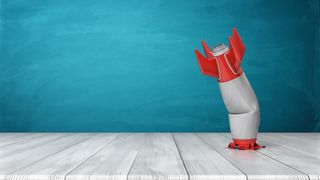 Misco's unsecured creditors will receive just £600,000 of the £2.18 million they're owed as the company goes into administration it has been revealed, meaning there are going to be quite a few unhappy businesses that will never be able to recover their money from the company.
The reseller's administrator report has now been made available on Companies House and although the majority of secured creditors will receive the money they're owed (Leumi and Systemax Netherlands), HUK 76 will apparently suffer "a shortfall".
Preferential creditors (those owed pay, pensions contributions and holiday pay) will be paid in full, so it's only the unsecured creditors that will substantially miss out.
The £600,000 that administrators can scrape together towards these creditors will come from the sale of Misco's property, which has been valued at £8.3 million. It includes the company's Wellingborough office, the majority of which proceeds will be used to pay off Systemax and a property in Greenock, Scotland. The company's third property in Weybridge will undergo surrender negotiations with the landlord in the hope it can recoup some costs.
Misco went into administration in October last year, forcing the loss of 300 jobs in the UK. These 300 people will be repaid in full according to the latest report.
"The company's turnaround plans could not deal sufficiently with the rapidly deterioration in cash-flow after the sudden tightening of credit insurance terms," administrator Geoffrey Rowley of FRP Advisory LLP said at the time it was announced Misco would be closing its doors.
"The UK business had moved to a system of supply chain outsourcing of stock, with increasing levels of automation to enable greater efficiencies with suppliers and distributions and overall lower cost, however these efforts came at a time of heightened competition from other globalised online retailers which have eaten heavily into the margins of even established IT resellers like Misco."
Stay up to date with the latest Channel industry news and analysis with our twice-weekly newsletter
Stay up to date with the latest Channel industry news and analysis with our twice-weekly newsletter
Thank you for signing up to Channel Pro. You will receive a verification email shortly.
There was a problem. Please refresh the page and try again.