VMworld 2019 sees wide range of partner announcements
New integrations, co-engineered products and expanded support across VMware's estate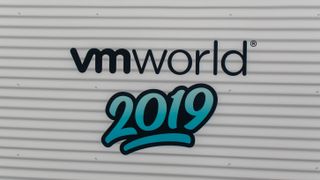 This week, VMware partners and customers have descended on San Francisco's Moscone Centre for the company's annual VMworld conference. To coincide with the event, numerous VMware partners have announced new integrations and joint efforts across the company's portfolio.
One of the most prolific partners in terms of announcements was NetApp, which unveiled a new hyper-converged infrastructure appliance designed specifically to support VDI workloads running on VMware Horizon 7, as well as a new H615 GPU compute node for high-performance computing tasks. The company also announced that its Kubernetes as a service offering - NetApp Kubernetes Service - is now available on vSphere, in addition to launching a new implementation service for VMware private cloud architectures running on NetApp's HCI appliances.
Another significant release came courtesy of HPE, which revealed that its GreenLake consumption-based offering and Synergy composable infrastructure products now support VMware Cloud Foundation, offering customers the speed, agility and economic benefits of cloud models within their own data centres.
Although Dell EMC and VMware share a parent company (in the form of Dell Technologies), the two still qualify as partners, and the two have announced a number of co-developed products. In addition to the VMware Cloud on Dell EMC offering which went into US general availability this week, Dell EMC has also unveiled a new SmartFabric Director - a jointly-developed software product for managing Dell EMC PowerSwitch Series network switches as part of a software-defined data centre, including integration with vSphere, vCenter and NSX-T.
Dell also announced expanded support and security features for its Unified Workspace product, supported by VMware Workspace ONE, as well as the addition of Dell Latitude Chromebooks to the programme.
Rackspace, meanwhile, has gone big on hybrid cloud, offering managed VMware Cloud on AWS services, Kubernetes deployment services, application integration services, MSSP services and more.
Cloud services are something of a theme for VMware's partners; Flexential announced that its Cloud Platform has been granted "VMware Cloud Verified" status, meaning it's delivered by a fully-optimised VMware cloud stack and gives customers all the associated capabilities and benefits.
BlueMedora, meanwhile, has produced a new management pack for vRealize Operations that allows customers to connect their ServiceNow deployments to their vRealize Operations console, while Solace's PubSub+ event management tools are now available on VMware's Cloud Marketplace.
Stay up to date with the latest Channel industry news and analysis with our twice-weekly newsletter
Adam Shepherd has been a technology journalist since 2015, covering everything from cloud storage and security, to smartphones and servers. Over the course of his career, he's seen the spread of 5G, the growing ubiquity of wireless devices, and the start of the connected revolution. He's also been to more trade shows and technology conferences than he cares to count.
As reviews and community editor, he's responsible for leading IT Pro's wide-ranging product coverage, and is an avid follower of the latest hardware innovations. He's never happier than when tinkering with complex network configurations, or exploring a new Linux distro.
In addition to managing the IT Pro Panel and working with the community of IT leaders that make it up, he co-hosts the IT Pro Podcast, where you can hear him ranting about his love of strange gadgets, his disdain for Windows Mobile, and everything in between.
You can find Adam tweeting about enterprise technology (or more often bad jokes) @AdamShepherUK, or you can email him at adam.shepherd@futurenet.com.
Stay up to date with the latest Channel industry news and analysis with our twice-weekly newsletter
Thank you for signing up to Channel Pro. You will receive a verification email shortly.
There was a problem. Please refresh the page and try again.