Ideagen partners with Natero to help boost customer satisfaction
The UK-based firm says automated software will help employees gain a complete understanding of their customers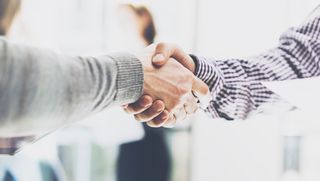 Ideagen has formed a new strategic partnership with Natero, a global provider of customer success software, as it looks to enhance its 'Customer Success' programme.
The UK-based software firm said the businesses will work closely together to increase customer satisfaction, adoption, as well as health via a new software system.
As part of the deal, Ideagen will adopt Natero's dedicated customer success management application to provide it with live and accurate intelligence, predictive analytics and workflow management - ultimately providing a central view of customer health and trends.
"This is an exciting move by Ideagen and one that will enable us to provide our clients with a best-in-class service while being able to analyse live, up-to-the-minute customer health data," said Mark Fuller, head of Customer Success at Ideagen.
"Working with Natero will provide us with a Customer Success Management platform which will plug into our existing software suite and, through automation, allow us to focus on improving customer outcomes, onboarding, adoption, time to value and health."
At present, more than 4,700 customers around the world use Ideagen's suite of GRC software, with the figure expected to grow due to the Governance, Risk and Compliance (GRC) leader's 'buy-and-build' acquisition strategy.
"Following an acquisition, we need to be able to quickly establish an accurate picture of health for new customers joining the Ideagen community," Fuller explained. "This project is about aggregating what we know about customers within Natero, enabling us to understand customer health to provide a better all-round proactive service for our global customer base.
"Providing staff with a single central view of customer health is a vital mechanism so they can truly understand how their own role directly contributes to customer success."
Customer Success is a relatively new concept, the software firm says, but one that is becoming an increasingly business-critical function as organisations look to enhance knowledge of performance and health.
Natero's next-generation platform represents the latest development in Ideagen's Customer Success function, enabling B2B software companies to reduce churn, increase user adoption and maximise customer lifeline value (CLV).
"Ideagen and Natero share the same fundamental beliefs in that the success of the client is of paramount importance to the success of the business," said Craig Soules, founder and CEO of Natero. "We are absolutely delighted that Ideagen has chosen to work with Natero and look forward to playing and important part in its Customer Success programme."
Stay up to date with the latest Channel industry news and analysis with our twice-weekly newsletter
Dan is a freelance writer and regular contributor to ChannelPro, covering the latest news stories across the IT, technology, and channel landscapes. Topics regularly cover cloud technologies, cyber security, software and operating system guides, and the latest mergers and acquisitions.
A journalism graduate from Leeds Beckett University, he combines a passion for the written word with a keen interest in the latest technology and its influence in an increasingly connected world.
He started writing for ChannelPro back in 2016, focusing on a mixture of news and technology guides, before becoming a regular contributor to ITPro. Elsewhere, he has previously written news and features across a range of other topics, including sport, music, and general news.
Stay up to date with the latest Channel industry news and analysis with our twice-weekly newsletter
Thank you for signing up to Channel Pro. You will receive a verification email shortly.
There was a problem. Please refresh the page and try again.