Salesforce and Google confirm Workspace integration in partnership extension
The integration of Salesforce and Google Workspace aims to allow users to harness data from both platforms and drive productivity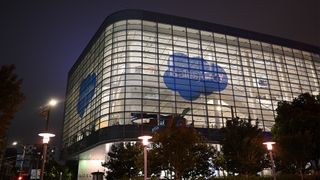 (Image credit: Getty Images)
Salesforce has announced an extension of its long-standing strategic partnership with Google to provide deeper integration of its AI-powered CRM with Google Workspace.
Announced ahead of the firm's flagship Dreamforce conference, the move will integrate Salesforce's AI CRM and Google's suite of productivity platforms, including Google Calendar, Docs, Meet, and Gmail, the firm revealed.
"This partnership will deliver new bidirectional integrations that allow customers to bring together context from Salesforce and Google Workspace," Salesforce said in a statement.
The pair tipped the partnership as an opportunity for customers to use Google's Duet AI and Salesforce's Einstein Copilot across both suites of tools. Salesforce data can be used to generate customized Google Docs and Slides, as well as Google Meet and Gmail correspondence summaries.
"Users will be able to generate personalized and contextual Workspace content, including emails in Gmail, content in Google Docs, and more, from Workspace or Salesforce, by seamlessly accessing relevant Salesforce information on prior meetings, customer interactions, and sales outcomes."
Salesforce said the integration will support greater automation of processes for users of both Workspace and its CRM platform and "eliminate the need for context switching".
This will include the ability to automatically generate interaction and meeting summaries, schedule follow-ups, and assign tasks based on action points identified by users.
"For example, after a successful sales call, a summary from Google Meet can trigger assignment of tasks to owners in Salesforce," the firm said. "And move a deal stage to closed."
Workspace data can also be used to keep Salesforce records up-to-date, the firm said. In doing this, Salesforce said the move will increase productivity and "eliminate manual tasks" such as moving an opportunity stage forward in Salesforce based on Gmail data.
RELATED RESOURCE
Discover how companies are unlocking untapped value with Salesforce.
Salesforce chief product officer David Schmaier said the partnership extension will enable organizations to "unlock the full potential of AI and data" and deliver marked productivity improvements for users of both platforms.
"This deep integration between Salesforce and Google Workspace, where many users spend much of their day, helps save time and effort, unlocks far greater value and deeper insights from their data, and will fundamentally change how people work."
The move means Salesforce will become the first partner organization to fully integrate with Google's Duet for Workspace AI framework. Similarly, Google will become the first extensible partner for Salesforce's new Einstein Copilot assistant, officially unveiled today ahead of Dreamforce.
Google Cloud CEO Thomas Kurian said the partnership underlines how both firm's are leveraging their open ecosystem approach to generative AI to deliver cross-platform benefits for customers.
"Our partnership with Salesforce is an example of why an open and extensible ecosystem for generative AI will create the most value for customers," he said.
"Together, Salesforce and Google Workspace will empower organizations to redefine how work is accomplished with generative AI, help foster innovation and productivity and scale, and make common tasks more efficient and purposeful."
Stay up to date with the latest news and analysis from the world of cloud computing with our twice-weekly newsletter
Ross Kelly is a staff writer at ITPro, ChannelPro, and CloudPro, with a keen interest in cyber security, business leadership and emerging technologies.
He graduated from Edinburgh Napier University in 2016 with a BA (Hons) in Journalism, and joined ITPro in 2022 after four years working in technology conference research.
In his spare time, Ross enjoys cycling, walking and is an avid reader of history and non-fiction.
You can contact Ross at ross.kelly@futurenet.com or on Twitter and LinkedIn.
Thank you for signing up to Cloud Pro. You will receive a verification email shortly.
There was a problem. Please refresh the page and try again.