Snowflake: "We want our Marketplace to be Netflix not YouTube"
Firm's SVP of product stresses the importance of quality over quantity in relation to apps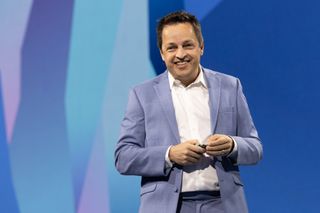 (Image credit: Snowflake)
Snowflake said it refuses to sacrifice quality in its pursuit of disruption in the application development space.
The company's SVP of product, Christian Kleinerman, likened Snowflake's ambition for its Native App Framework to Netflix, highlighting the desire for it to launch with a selection of highly curated, high-quality apps.
The former YouTube executive loosely used his past employer's video-sharing platform as an example of the type of product that the Native App Framework, which on Tuesday launched in public preview with apps from 25 providers, will not aim to replicate.
"Even though we mentioned 25 providers published, there are like 90 additional applications already in the queue, in some stage of development or in submission," he told ITPro during an interview at Snowflake Summit 2023.
RELATED RESOURCE
Analyzing the economic benefits of Trend Micro Vision One
Enhanced visibility and response through integration at the application layer
"Because when you submit it to the Marketplace, we don't just publish anything that comes. We run it through a number of validations and checks because we want to stand by the quality of what's there.
"So, the guidance that I give my entire team is I want our Marketplace to be Netflix, not YouTube. I worked at YouTube, so saying that is difficult for me as I love YouTube.
"YouTube is this place where anyone can publish. While Netflix is a very curated catalog where quality is vouched for and you know exactly what you're going to find, and that's what we aspire to with our Marketplace, which is different from other companies."
Kleinerman also talked about the fairly recent shift that has occurred among enterprises that now truly understand the power of data to make or break their fortunes.
He added that some companies are still yet to embrace the change and, as a result, there will be winners and losers.
"We're at a point in time where companies have realized that data represents a competitive advantage. It's something that can get companies ahead of their peers, but those that are not doing [so] are the ones are going to fall behind," he said.
"This realization has been happening in the last five-to-ten years. And AI is now turbocharging that. I think Google was at the forefront for many years on leveraging data to build better products and better services. So, now, a lot of what you see across the world is about how you get every company to be as data-driven as Google or Netflix or those types of companies."
In Snowflake's view, the catalyst for driving the importance of data up the corporate agenda can be attributed to new technology that now allows organizations to generate more value from the data they store.
"I think for the longest time - the last 10, 20, 30, 40 years - data was seen as second priority, something that is only relegated to IT, and something that is very backward-looking," he said.
"And, frankly, the technology was not there to truly open up the opportunity of leveraging data more broadly.
"IT was spending an incredible amount of time just keeping the systems running. [In such circumstances], who has time to think about data as a strategic asset, data as a differentiator? Now all of that has changed. I think the cloud has helped and at Snowflake, we've been at the forefront of [this change].
"We do not want our customers to be focused on the infrastructure. We want our customers focused on data, data models, metric definitions, and dimensions. And it's truly there where the value lies."
Stay up to date with the latest news and analysis from the world of cloud computing with our twice-weekly newsletter
Maggie has been a journalist since 1999, starting her career as an editorial assistant on then-weekly magazine Computing, before working her way up to senior reporter level. In 2006, just weeks before ITPro was launched, Maggie joined Dennis Publishing as a reporter. Having worked her way up to editor of ITPro, she was appointed group editor of CloudPro and ITPro in April 2012. She became the editorial director and took responsibility for ChannelPro, in 2016.
Her areas of particular interest, aside from cloud, include management and C-level issues, the business value of technology, green and environmental issues and careers to name but a few.