Google Calendar's web app receives a long-awaited revamp
The update adds a fresh look and improved features for creating meetings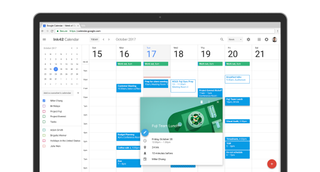 Google has finally released an updated look for its web Calendar app, bringing with it a host of new features designed to make it easier to manage company meetings.
Although it has received a number of smaller feature updates over the past year, the look of Google's Calendar browser app has been criticised as looking old-fashioned and tired compared to its mobile counterpart and its more modern set of G Suite tools.
As a result, Google has now updated the app with a fresh look, as well as a number of features aimed at making it much easier to create meetings. Users can now add far more detail about the type of room being used, including the size and location, what technology is available, and whether it is wheelchair accessible.
Rich text can also now be added to Calendar invites, allowing users to embed spreadsheets, presentations, and documents, which can be opened from a new Event Detail tab - the idea being that colleagues are able to access all the relevant material they need before a meeting.
For those juggling multiple teams, they're now able to highlight all your calendars and compare them in separate columns through an updated day view feature, and anything you accidently delete, such as meeting invites, can now be easily restored with a button click.
For enterprises, Google is offering two rollout options for G Suite admins, the default being an automatic update, which will start on 14 November. Alternatively, admins are able to manually update their systems through the Google console, which may be preferable if users rely on a large number of Calendar extensions.
While there are no major updates here, a fresh coat of paint is certainly welcome for an app that looked stale compared to Google's newly updated G Suite tools.
The update comes just weeks after Google launched its new Drive File Stream desktop application, which allows for the streaming of Drive files directly from the cloud to a user's PC.
Images courtesy of Google
A daily dose of IT news, reviews, features and insights, straight to your inbox!
A daily dose of IT news, reviews, features and insights, straight to your inbox!
Thank you for signing up to ITPro. You will receive a verification email shortly.
There was a problem. Please refresh the page and try again.