MobileIron launches Connected Cloud
Channel-only offering to launch in Europe within months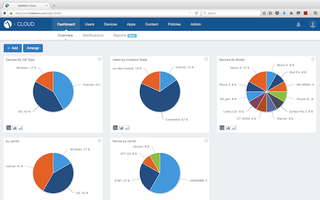 MobileIron has launched the first multi-tenanted software as a service for mobile device management. Connected Cloud will support seven platforms including IOS (iPhone and iPad), Android, Symbian, Windows Mobile, Windows Phone, Web OS and Blackberry devices. In a similar fashion to its current on premise software, key features include the ability to restrict application installation on devices and alerts for telecoms managers if users are racking up excessive call charges due to incorrect selection of roaming agreements.
The platform is policy driven and extends enforcement of antivirus and data loss prevention strategies down to an individual device level. MobileIron also allows companies to create iPhone style "approved" app stores for employees and selectively delete unauthorised corporate information that may have been 'accidently' stored on a mobile device.
The new Cloud will be initially offered from the US but Ojas Rege, VP products at MobileIron confirmed that it will be available from a new European datacentre due to launch in the next three months. "The main reason we are putting a datacentre in Europe is to address privacy concerns …we don't want to be in a situation where any customer has to think twice," he explains.
Customers can also deploy an optional on-premise connector to allow integration between on-premise authentication services like Active Directory, identity systems such as certificate authorities and communication systems like email. The firm is also working on inter-cloud connectors with Gogledocs a key target.
The MobileIron Connected Cloud will only be offered through channel partners and the firm has around 100 active in 25 countries, including regional carriers such as Vodafone, Verizon and Swisscom. Rege confirmed that pricing will be comparable to current on premise or channel-led private clouds. "Channel partners will probably make more margin as they don't have to manage the hardware," he added.
Stay up to date with the latest Channel industry news and analysis with our twice-weekly newsletter
Stay up to date with the latest Channel industry news and analysis with our twice-weekly newsletter
Thank you for signing up to Channel Pro. You will receive a verification email shortly.
There was a problem. Please refresh the page and try again.