What does the future have in store for public cloud?
The public cloud has been around for more than two decades, yet its popularity endures despite hybrid, private and repatriation movements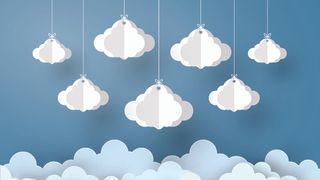 (Image credit: Shutterstock)
The public cloud may seem far less exciting than it once was when it burst onto the scene more than 20 years ago. Amazon Web Services (AWS) first kicked us into the cloud age in 2002 – with little competition but also barely any convincing use cases to attract businesses. Over time, though, services like EC2 and S3 began to live up to the hype, with competitors soon forming in the likes of Microsoft Azure and Google Cloud Platform.
Businesses had previously been plagued with the burden of maintaining servers and making huge up-front investments. Offering, and living up to, the promise of providing scalable web services and services-based partnerships, meant it's earned a place in history.
"I would say it's become the de facto standard for enterprise-class IT, even if a company only has a minority of its workloads in the public cloud," says Lee Sutar, a principal analyst at Forrester. He puts this down to the fact that a lot of the technologies developed in the cloud can now run in the data centre, such as cloud-native technologies like Kubernetes and even serverless. On the other hand, many tasks that would have been done within a data centre are now being undertaken in software as a service (SaaS). Together these have transformed the way IT is provisioned and run.
Public cloud has also just experienced almost a decade of more than 30% growth, according to Forrester, while Gartner's vice president for cloud services and technologies, Sid Nag, cites COVID-19 as fuelling recent growth. This was, in part, due to the urgent need to enable remote working, which required things like the scaling up of data-heavy collaboration apps such as Zoom, Teams and WebEx.
The future of the public cloud, however, has come under question thanks to the rise in often the more preferable hybrid cloud and private cloud configurations. Costs are rising too, with cloud repatriation growing in popularity. The Competition and Markets Authority (CMA) is also probing AWS and Azure for anti-competitive practices. Despite surging revenues, the public cloud movement is perhaps going through its rockiest period in 20 years.
Maintaining a solid position in the cloud ecosystem
RELATED CONTENT
Getting the right technology, at the right time with hybrid cloud
Experts see a general acceleration away from on-premise data management to the cloud, with public cloud providers innovating as the ecosystem grows in size and complexity. This is despite a growing collection of concerns.
The public cloud holds a robust position in today's business landscape for a number of reasons. These include scalability, the fact it can be faster and less expensive than on-premise data management and the way providers can "effectively provide cloud infrastructure with a push of a button," says Adam Coles, head of DevOps and cloud engineering at technology consultancy Opencast.
Enterprises led the way, but analysts are now seeing more adoption coming from smaller businesses – some with zero-ops – who are onboarding to the public cloud for infrastructure capabilities, and mid-market players choosing to add a cloud partner to their roster.
The public cloud isn't a panacea for all corporate ills, however, and there are many workloads that simply aren't candidates for cloud computing and will remain on-premise. "Perhaps they're high-performance workloads, and latency issues mean cloud versions simply aren't sufficient," notes Suter. For workloads more suited to the cloud, concerns around cloud sovereignty and data localisation might also mean that hybrid or private cloud solutions are more suitable options, though.
The future lies is specialisation
The public cloud market is highly competitive, and traditional on-premise players are fighting to retain and grow their enterprise customers says Patrick Marshall, a partner at consultant firm Altman Solon.
"Innovations in the on-premise space are strengthening hybrid cloud set-ups. Companies don't tend to go 'public cloud-native' overnight, rather they migrate in phases, from an initial 'lift and shift' of legacy infrastructure systems to integrating hybrid cloud models, to digitally mature companies seeking cloud-native applications and services. There's tremendous variation here."
He adds that as the cloud ecosystem grows and users feel more comfortable using the technology, we can expect to see greater demand for specialised applications, multi-cloud organisations, hybrid clouds, and clouds tailored to the needs of specific industries.
Multi-clouds in particular have led to many public cloud providers – albeit sometimes begrudgingly – working together with their competitors.
"Companies are increasingly looking to multi-cloud, especially in regulated industries like financial services, where there's a concern about vendor risk and so there's some interesting overlaps and relationships there as different providers take on different parts of the multi-cloud in order to capture a share of the revenue," says Suter.
RELATED RESOURCE
Building for success with off-premises private cloud
Leveraging co-location facilities to execute your cloud strategy
Revenues have been somewhat flat of late as customers tighten their spending, but the providers are willing to help customers save money through consolidation in the short term – even if it impacts their bottom line – as a way to ensure a long-term relationship and the subscription revenue they will receive.
This money is critical to providers, as they build out their capabilities with huge investments in not only infrastructure but also services as a way to differentiate themselves from the competition.
"This suggests the market is maturing from simply migrating workloads to the cloud to optimising them, driving enhanced insight, analytics, and robust security capabilities," says Marshall.
"Cloud providers are continuing to innovate, introducing even more capabilities from artificial intelligence, blockchain and others at a pace that is difficult to achieve with private cloud," adds Naveen Thomas, director for technology consulting at EY. "Without the public cloud, business' need for such innovations will supersede the IT industry's ability to keep up with such demand."
Public cloud providers want to move up the stack
Looking forward, analysts believe expenditure on the public cloud will decelerate – but in no way stall – as organisations tighten their belts post-pandemic.
Even so, overall growth will continue – a view backed up by figures from Wasabi's 2023 EMEA Cloud Storage Index, which highlighted that 83% of respondents expect to increase the amount of data they store in the public cloud in the next year, and Forrester and Gartner forecast the market will double from $446.4 billion last year to over $1 trillion by 2026.
The overall volume of revenue will continue to come mainly from infrastructure services for the time being, but rather than being a source of profit, the providers will benefit from it as a way to grow their customer share, and in time move customers onto premium services, where the margins at much higher.
"Cloud providers want to move from down the stack and infrastructure realm much more deeply into a business or government organisation – a much more profitable place for the providers to be," says Suter. "They're going to get there by offering these sorts of services increasingly in a platform-like manner that's easier to consume."
While the public cloud's hype has certainly reached a peak, its adoption is likely to continue growing well into the future Thomas notes, with Nag agreeing that moving to a public cloud is a "no brainer".
"Why would I continue to run my own data centres? Why would I continue to spend money buying and throwing hardware at the problem? Why spend my money on electricity needed to power and cool a data centre when my services are only utilised 30-60% of the time? At the end of the day, it just doesn't make sense," he says.
Stay up to date with the latest news and analysis from the world of cloud computing with our twice-weekly newsletter
Keri Allan is a freelancer with 20 years of experience writing about technology and has written for publications including the Guardian, the Sunday Times, CIO, E&T and Arabian Computer News. She specialises in areas including the cloud, IoT, AI, machine learning and digital transformation. You can follow Keri on Twitter.
Thank you for signing up to Cloud Pro. You will receive a verification email shortly.
There was a problem. Please refresh the page and try again.