What is CRM documentation and how can it benefit your business?
CRM software can be transformative, but employees need the resources to get the best out of it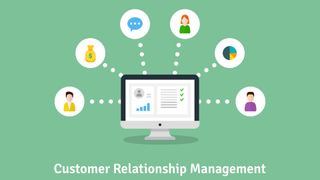 The way businesses conduct their day-to-day operations has drastically evolved over the past few years, in light of both Brexit and COVID-19, with companies more and more dependent on digital services. Not only have such systems been crucial to remaining afloat, but they've also been key to expanding and evolving as customer behaviour has changed.
One of the most popular approaches to growth is client diversification, where businesses are expanding their customer base. This, however, makes it harder to maintain the same quality of personal relationships. It's a challenge, therefore, to both maximise potential sales and manage an expanding client base.
Customer relationship management (CRM) software is one of the tools many businesses use to keep track of and interact with their customers and offers a variety of benefits including data analytics capabilities. Such systems gather data from a host of communications channels, including a company's website, email address, telephone number and other promotional materials like social media. CRM packages brief businesses on all the information they need to understand to maintain a high-quality customer relationship, so they can retain their client base while focusing on growth.
Why have CRM documentation?
Long-time users of CRM tools might have noticed a significant evolution in the nature of the software over the last few years. At first, these platforms were aesthetically unappealing and inefficient, although the user interface has developed and become much more intuitive in recent years. Various providers, like Salesforce, have also expanded the range of services to include marketing and data processing features. Many businesses have been able to use these tools to grow their sales operations, with the software rendering the various tasks involved highly accessible.
Understanding how to use CRM software, however, might yet be challenging for those unfamiliar with how these systems work. This is especially true when you account for the sheer variety of CRM tools available, which can have the undesired effect of overwhelming the uninitiated. This is why anyone – not only new users – could benefit from extra guidance on the system's best practices and how to get the most out of it.
This is where CRM documentation steps in. Whether your team is experienced in the nuances of software, or is looking for new ways to maximise its benefits, CRM documentation is a helpful accompaniment to the system itself.
RELATED RESOURCE
Top obstacles and business strategies for digital sellers
This survey reveals both challenges and emerging opportunities in 2021
Moreover, apart from being a useful companion tool, CRM documentation provides additional guidance in educating staff about regulatory compliance – and making sure that it's met. These may include the most basic data protection regulations, which are crucial for the functioning of every modern business, such as the UK's Data Protection Act 2018 or the more EU-focused GDPR.
CRM documentation makes it easier for businesses to collate their best practices and guidelines in one place, reducing the strain on support agents and managers, who are usually the first point of contact when employees seek advice regarding CRM. It also reduces the risk that employees will seek answers online, where information can be inaccurate, inappropriate for the task, or simply inconsistent with what other employees are doing across the company.
Ultimately, having accompanying documentation with a CRM system is a reliable way of empowering employees to troubleshoot their own problems, making them more self-sufficient and reducing the strain on the wider company, particularly those in the IT support side.
Robust CRM documentation should provide a form of cheat sheet for newer employees, and a safe reference point for those more experienced with a system. If a company consistently hears of employees struggling with a CRM system, it's very likely the documentation is poorly developed.
How to create effective CRM documentation
The trick to creating effective CRM documentation is to imagine how you would explain the use of the business' CRM setup in the most simple way while providing enough detail to avoid any potential mistakes.
Although creating such documentation might seem like a daunting task, the best approach is to look at it from the point of view of the reader and try not to overwhelm them with too much detail. For example, avoid elaborating on the CRM features which are not necessary to the company's customer relationship activity.
On the other hand, you also need to make sure that the documentation includes enough information to keep the user from misinterpreting the details of a specific task – with potentially dire consequences for the business. When it comes to the most complex functions, it's especially crucial to take the time to explain them step-by-step instead of just rushing through and confusing the reader.
What is more, writing the documentation doesn't have to be a one-person task. In fact, it can be especially useful to involve other departments with the CRM system, such as IT, to contribute their opinion. You could also consider sourcing the talents of an external tech writer who would be able to use their skills to explain the technicalities in the most accessible and comprehensible language possible.
Overall, when creating effective CRM documentation, collaboration is key and all feedback is invaluable. After all, this could be the deciding factor in creating a documentation which is informative, but also doesn't alienate those who aren't fluent in nuanced technical jargon.
As such, collaboration will need to be an ongoing process. As many CRM systems are cloud-based, they are often updated with new features and functionality that often gets pushed out automatically to the user base. This means that a set of instructions and user guidance in the responding documentation could be rendered moot or outdated.
By regularly reviewing the documentation and being aware of recent or upcoming updates to a CRM suite, a business can ensure its employees are not surprised when a user interface undergoes a redesign, for example, or a suite of new capabilities are added into their system of choice.
Keeping a digital copy of the documentation in a cloud-based service is one way to ensure a business can widely distribute up-to-date CRM documentation. A cloud-based collaboration system could also allow other people in the business to add their thoughts to a document, helping ensure it serves as many people as need it across an organisation.
Taking time out of a busy schedule to create an explanatory and guidelines document might seem like something IT workers might want to ignore.
But the potential benefits, such as everyone working in the CRM system to the same standard and understanding, could not only help bolster the development of customer relationships but also reduce the strain on the IT department and encourage users to take ownership of their own CRM development and troubleshooting.
All of this has the scope of benefiting a business overall, ensuring everyone is productive and effective without the need to overwhelm them with work.
Get the ITPro. daily newsletter
Receive our latest news, industry updates, featured resources and more. Sign up today to receive our FREE report on AI cyber crime & security - newly updated for 2023.
Roland is a passionate newshound whose journalism training initially involved a broadcast specialism, but he's since found his home in breaking news stories online and in print.
He held a freelance news editor position at ITPro for a number of years after his lengthy stint writing news, analysis, features, and columns for The Inquirer, V3, and Computing. He was also the news editor at Silicon UK before joining Tom's Guide in April 2020 where he started as the UK Editor and now assumes the role of Managing Editor of News.
Roland's career has seen him develop expertise in both consumer and business technology, and during his freelance days, he dabbled in the world of automotive and gaming journalism, too.