Cloud earnings show 'slowdown' still not out of the question
Earnings calls from Microsoft and Google show there's still some gas in the tank for cloud providers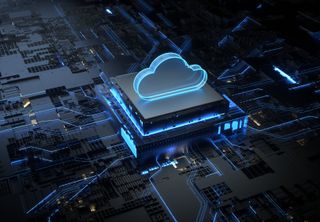 (Image credit: Getty Images)
Recent earnings calls from Microsoft and Google have shown there is still a strong appetite for cloud computing services, despite warnings of a pending 'cloud slowdown' in recent months.
In an earnings call for the quarter ending March 31, Microsoft recorded 27% growth at its Azure cloud division. While slower than the 31% recorded in the previous quarter, this exceeded analyst expectations, Microsoft said.
Microsoft attributed part of this growth to the ongoing hype surrounding the integration of generative AI products within its core service offerings.
In an investor call, CEO Satya Nadella said that the company's cloud segment was reaping the benefits of AI integration within products.
He noted that the firm now boasted more than 2,500 customers for its Azure OpenAI service.
Elsewhere, Google Cloud recorded its first operating profit in the history of the division in the previous quarter. The hyperscaler recorded $7.4 billion in revenue, amounting to a 2.5% profit.
Is a 'cloud slowdown' still possible?
These earnings - Google Cloud's in particular - call into question recent claims that the global cloud market was bracing for a 'slowdown'.
Deteriorating economic conditions, rising costs, and concerns around energy consumption prompted suggestions that the cloud market was entering a period of sluggish growth earlier this year.
RELATED RESOURCE
Best practices for Microsoft 365 business continuity
Discover how to mitigate the effects of large-scale, high-cost data loss disasters
DOWNLOAD FOR FREE
Research from the Uptime Institute showed that hyperscalers such as AWS and Microsoft had recorded slower growth toward the end of 2022 amid challenging macroeconomic conditions.
"The global macroeconomic environment - specifically, high energy costs together with inflation - is making organizations more cautious about spending money," the report warned.
"Cloud development projects are no different from many others and are likely to be postponed or deprioritized due to rising costs, skill shortages, and global uncertainty."
But a landmark profit for Google Cloud and a quarter that exceeded expectations at Azure does not necessarily constitute a reversal of any slowdown.
Compared to pandemic-era highs, all three hyperscalers are still experiencing sluggish growth to some extent.
Google Cloud may have recorded an operating profit in this quarter, but in Q1 2021 the firm reported a staggering 58% growth as organizations across the globe flocked to the cloud.
Azure and AWS earnings of late also pale in comparison to that pandemic-era high in 2021 and early 2022.
Mark Boost, CEO of Civo said that Google Cloud's earnings are a point of interest given they come at a critical time in the cloud market amid rising concerns over costs.
"It's telling that Google Cloud's first profitable quarter comes at a time of high economic pressure for businesses across the economy," he told ITPro.
"Q1 has been a time of tightening budgets and minimizing costs," Boost added. "Rising prices have played a role in driving these profits."
Hyperscalers are bullish on artificial intelligence
Satya Nadella's comments on generative AI benefits appear indicative of how the hyperscalers view the emergence of this new trend.
In recent weeks, AWS and Google have both outlined plans on how they plan to capitalize on generative AI to support core product offerings, and cloud services are most certainly in the crosshairs.
Earlier this month, AWS unveiled the launch of Amazon Bedrock, a managed service offering which it said offers customers the "easiest way to build and scale enterprise-ready generative AI applications".
The launch of Amazon Bedrock was hailed as potentially a key differentiator for the hyperscaler due to its inclusion of access to third-party large language models (LLMs) to support cloud developers.
Google also announced the launch of new generative AI tools for cloud developers this week, focusing specifically on bolstering security capabilities for customers within its own ecosystem.
The Google Cloud Security AI Workbench will offer users an "industry-first extensible platform", powered by a specialized security-specific large language model (LLM) known as 'Sec-PaLM'.
ANALYSIS
The extent to which Microsoft has focused on AI in its report is indicative of the cloud giant's wider company strategy going forward.
Services such as Bing have already benefited from the range of AI tools the Redmond giant has brought in across its product offerings, with the formerly-flagging search engine having exceeded 100 million daily users for the first time in March.
RELATED RESOURCE
Hyperscaler cloud service providers top ten
Why it's important for companies to consider hyperscaler cloud service providers, and why they matter
Satya Nadella said that Microsoft is "the platform of choice to help customers get the most value out of their digital spend and innovate for this next generation of AI," and implicit in this statement is the Microsoft executive's perspective on the vast value of AI for the firm going forward.
In aligning AI innovation so closely with the wider value proposition of Microsoft's cloud platform, Microsoft has distanced itself from the competition.
Google has publicly released AI products such as Bard and has now moved to put out ethical AI under the banner of Demis Hassabis' Google DeepMind, and AWS Bedrock has put developers first with an emphasis on third-party development.
In doing so, both of these firms have set out AI projects from their other operations under specific divisions or frameworks. Microsoft has worked to achieve the opposite, blending generative AI throughout its operations under the 'Copilot' umbrella including for 365 Copilot, GitHub Copilot X, Security Copilot, and Copilot for Viva.
This may cement Microsoft as more of an 'AI-first' firm in the eyes of its customers, a title that Google has long held.
It is more than likely that Microsoft's spending on AI, so far, outweighs its absolute take in that department - its $10 billion OpenAI investment hasn't produced a clear profitable product offering as yet.
But the benefits of such widespread embracement of AI models like GPT-4 can already be seen in bolstered investor confidence, improved customer interest in the 365 suite, and a shot in the arm for Azure's value offering.
Stay up to date with the latest news and analysis from the world of cloud computing with our twice-weekly newsletter
Ross Kelly is a staff writer at ITPro, ChannelPro, and CloudPro, with a keen interest in cyber security, business leadership and emerging technologies.
He graduated from Edinburgh Napier University in 2016 with a BA (Hons) in Journalism, and joined ITPro in 2022 after four years working in technology conference research.
In his spare time, Ross enjoys cycling, walking and is an avid reader of history and non-fiction.
You can contact Ross at ross.kelly@futurenet.com or on Twitter and LinkedIn.
Thank you for signing up to Cloud Pro. You will receive a verification email shortly.
There was a problem. Please refresh the page and try again.