Is Salesforce taking on Watson with Einstein AI capabilities?
Einstein brings AI data analytic capabilities to Salesforce platform, but what does that really mean?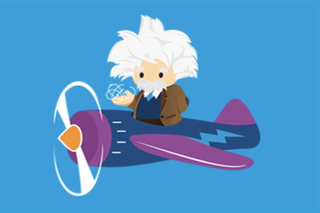 Salesforce used its annual Dreamforce conference in San Francisco this week to drill home the message that it now has the (admittedly self-proclaimed) "smartest CRM offering on the planet".
The cloud giant has added AI capabilities to its platform using a new technology dubbed Einstein, in a move it believes will bring the power and intelligence of data scientists and put them in the hands of every user regardless of their line of business.
Einstein was officially unveiled by Salesforce in September, but it's only really now, during Dreamforce that customers are started to see what it means or can mean to them. And the reaction so far on the show floor has been really positive.
Salesforce executives have been keen to stress that Einstein's AI capabilities have been baked into the platform rather than simply layered on top or included as an add on. This, they say, means it will work across all current offerings – and, presumably, future offerings too.
Einstein works by capturing data (as Salesforce has always done, but with new data sets included), learning and then connecting the dots, according to the company's co-founder Parker Harris.
"Step one was the data, let's capture it. All the data we've been [collecting] for 17 years plus other data. Then feed it to the algorithms. Then there's insights. We're going to use AI to change the way you work, to make you smarter," Harris told conference attendees during CEO Mark Benioff's keynote speech.
"We did not build a separate AI platform. We built it in. It means Einstein is everyone's data scientist."
The potential to change the way people work for the better through Einstein was echoed by John Ball, Einstein's general manager, who said: "We're at the beginning of an AI revolution. Einstein is all about taking that to the business world and bringing AI to your apps.
"Einstein simplifies all that [enterprise] complexity so we can bring AI to Salesforce. It takes the world's number one CRM and makes it the world's smartest CRM. It's really about transforming the way we work. It's about focusing on what matters and giving time back."
Stay up to date with the latest news and analysis from the world of cloud computing with our twice-weekly newsletter
Maggie has been a journalist since 1999, starting her career as an editorial assistant on then-weekly magazine Computing, before working her way up to senior reporter level. In 2006, just weeks before ITPro was launched, Maggie joined Dennis Publishing as a reporter. Having worked her way up to editor of ITPro, she was appointed group editor of CloudPro and ITPro in April 2012. She became the editorial director and took responsibility for ChannelPro, in 2016.
Her areas of particular interest, aside from cloud, include management and C-level issues, the business value of technology, green and environmental issues and careers to name but a few.