The best remote access software
We round up the top remote access software for mobile workers, including those with collaboration, screen-sharing and support tools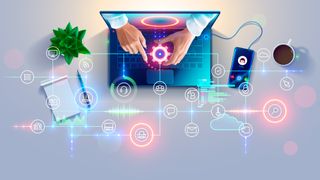 (Image credit: Shutterstock)
The recent surge in remote work has created increased demand for software packages that allow workers to do their jobs at home. Although many of us are heading back to the office in some capacity, organisations are likely to continue to invest in these kinds of systems as they adapt to hybrid working models, with the demand estimated to increase even more in the future.
RELATED RESOURCE
Three tips for leading hybrid teams effectively
A guide to employee motivation and engagement for business leaders
Analysts have predicted that the hybrid working market will increase by 15.7% in the next four years, worth $3.83 billion (£2.76 billion). Also contributing to this demand are the prospect of security threats, the expansion of technologies, and the rise of EdTech.
A form of remote working will linger for some time. Research from LinkedIn highlighted the flexibility introduced by remote working is now considered a benefit in job applications, making companies who promote this trend more appealing. In a number of cases, for an entire segment of the workforce, this flexibility isn't only a benefit, but a requirement.
We've listed some of the most popular providers of remote access software to help you choose the best one for your business.
LogMeIn Pro
LogMeIn Pro, also known as Pro by LogMeIn, was the company's main remote access system before it purchased Citrix's GoTo suite of business apps. Although many other tools and services have been added to LogMeIn's portfolio, LogMeIn Pro is still the most effective and simplest tool for small businesses the company provides.
Swipe to scroll horizontally
| | | |
| --- | --- | --- |
| Tier | Number of computers that can be accessed | Price per month |
| Pro for Individuals | 2 | £25 |
| Pro for Power Users | 5 | £59 |
| Pro for small businesses | 10 | £109 |
| Pro 25 for small businesses | 25 | £242 |
| Pro 50 for small businesses | 50 | £492 |
The solution offers numerous ways to access your computer remotely. Official apps are available to download for iOS, iPadOS, macOS, Android (via Google Play or Amazon) and Windows, or if for whatever reason that doesn't suit you can use a compatible browser.
There are other features included across all tiers of LogMeIn Pro, such as remote printing, 1TB of cloud-based file storage and unlimited users.
ConnectWise ScreenConnect
ConnectWise ScreenConnect is focused on providing remote IT support, rather than users accessing their own computers remotely from another device.
ConnectWise ScreenConnect is subdivided into two options: Support and Access. Support is the more comprehensive of the two, providing remote meetings, file transfer, remote support, remote printing, unattended access, VoIP, chat, reporting dashboard remote diagnostics and more, depending on which tier you're signed up to.
As the name would suggest, Access focuses on unattended access, with security and device management at its heart.
ScreenConnect pricing starts from $27 per month ex VAT for the lowest tier, One, rising to $42 per month ex VAT for the next tier up, Standard, $52 per month ex VAT for Premium, and $30 per month ex VAT for the top tier, Access.
Splashtop
Splashtop offers a wide variety of remote access products for almost every conceivable use case.
First, there are classic tools for IT teams and MSPs supporting both internal users and external customers: Remote Support, which gives both attended and unattended access to servers and computers, and SOS On-Demand Support, which is a simpler feature for providing remote break/fix assistance to individuals using Windows, Mac, iOS and Android devices.
Swipe to scroll horizontally
| | | |
| --- | --- | --- |
| Name | Price per month | Conditions |
| Personal | Free | One user, non-commercial use. |
| Business Access Solo | £5 | Individual users only. Access up to two computers. |
| Business Access Pro | £7/user | Intended for four or more users. Volume licensing agreements available for teams of 10 or more |
| Remote Support | From £33 | 25 computers per year. |
| SOS | £14 | Attended devices only, but an unlimited number |
| SOS+10 | £15 | Up to 10 unattended devices, unlimited attended devices |
| SOS Unlimited | £27 | N/A |
| Enterprise Remote Support and Access | Enquire directly | N/A |
| Ruggest & IoT Remote Access and Support | Enquire directly | Free trial for up to 100 devices. A trial is available for over 100 devices by arrangement with Splashtop |
Next, there's the somewhat more comprehensive Enterprise Remote Support and Access, which is a self-hosted, on-premise product for larger organisations to – as the name would suggest – provide remote access and support. IT administrators can access any managed computer remotely, including virtual machines.
At the other end of the scale, there's Business Access, which allows individuals or teams to access laptops and desktops running Windows or Mac remotely from their smartphone, tablet or another computer.
For those organisations managing a lot of remote devices that typically operate unattended at most times, such as kiosks, IoT devices, point of sale (POS), or digital signs, there's Rugged & IoT Remote Access and Support.
There's also a free Personal tier, which is for non-commercial use and as such doesn't include many of the bells and whistles of the others.
TeamViewer
One of the best-known names in remote access, TeamViewer offers fully cloud-based products for a wide range of scenarios.
Swipe to scroll horizontally
| | | |
| --- | --- | --- |
| Name | Price per month | Conditions |
| Single User - Business License | £32.90 | One user can operate one session |
| Multi User - Premium License | £61.90 | Includes 15 licensed users, allowing one user to operate one session |
| For Teams - Corporate License | £124.90 | Includes 30 licensed users, allowing three users to operate one session |
| TeamViewer Tensor | From $28 | Approach TeamViewer for more details |
| TeamViewer IoT | Free free | Variable pricing per endpoint available through TeamViewer website |
| TeamViewer Pilot | Free trial available | Approach TeamViewer for more details |
| TeamViewer Remote Management | Free trial available | Approach TeamViewer for more details |
| Teamviewer Servicecamp | Free trial available | Approach TeamViewer for more details |
For individuals, there's the eponymous TeamViewer remote support software. It's for private, non-commercial use only, although in addition to accessing your own computer remotely you may, for example, help out a friend or relative remotely – handy if you're in a government-mandated lockdown, for example.
There are also three TeamViewer business options, Single User, Multi-User and For Teams. All of the tiers offer attended and unattended access, file sharing, remote printing, and device management, and device management ranging from up to 200 to up to 500 depending on the tier.
In addition to the above, there are five options for businesses to choose from Tensor, IoT, Pilot, Remote Management and Servicecamp.
TeamViewer Tensor provides remote support, remote access, and remote device control. It also supports single sign-on (SSO), is device agnostic, has the ability to audit every connection made to and from a PC to the Tensor platform, and has Internet of Things (IoT) support.
For more specialised IoT support, there's TeamViewer IoT. It's already in use in settings such as manufacturing, logistics and transport, utilities, and building and infrastructure. It can be used to monitor and, where possible, fix devices remotely, and also allows admins to set up data and rules-based security monitoring, alerting them if any devices or sensors start behaving unusually.
TeamViewer Pilot offers the ability to provide remote support via augmented reality (AR). This allows someone on the ground who needs to fix an endpoint quickly but lacks the expertise to connect with a specialist who can guide them through the process via their smartphone.
TeamViewer Remote Management is a rather more standard product than Pilot. It offers centralised monitoring and management for devices and the corporate network, as well as patch management, asset management, endpoint protection, and backup.
Similarly simple is Servicecamp, a service desk option that can be added onto other business-level TeamViewer subscriptions.
TeamViewer's pricing is highly configurable, so we recommend you visit the company's website for more details.
A daily dose of IT news, reviews, features and insights, straight to your inbox!
Jane McCallion is ITPro's Deputy Editor, primarily covering security, storage and networking for ITPro, CloudPro and ChannelPro.
Jane joined ITPro and CloudPro in July 2012, having previously written freelance for a number of business and finance magazines. She has also covered current affairs, including the student, public sector workers and TUC protests and strikes in central London while studying a Masters in Journalism at Goldsmiths, University of London.
Prior to becoming a journalist, Jane studied Applied Languages at the University of Portsmouth.
A daily dose of IT news, reviews, features and insights, straight to your inbox!
Thank you for signing up to ITPro. You will receive a verification email shortly.
There was a problem. Please refresh the page and try again.